Chulu west peak climbing information
Chulu West peak is yet another tempting and fascinating trekking peak situated in the vicinity of the most eminent region of Nepal, Annapurna. The summit reads 6419 meters elevation above the sea level and is settled as prominent extension of Manang Himal north to Manang. Nepal Mountaineering Association has classified Chulu West peak as group "B" trekking peak.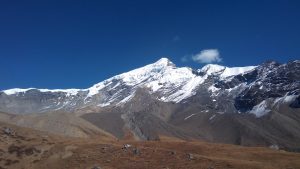 Chulu West Peak is a majestic summit that attracts mountaineers from all over the world. At the base camp, climbers spend a few days acclimatizing and preparing for the ascent. They will be able to enjoy breathtaking views of the surrounding mountains, including Annapurna II, Annapurna III, and Gangapurna.
Popular climbing route to the summit of Chulu West Peak is via the North East Ridge. The ascent starts with a gentle slope leading to a snow, rocky terrain and ice ridge that becomes steeper and more technical as it progresses. The final section of the climb involves a steep snow and ice face that leads to the summit.
Chulu West together with other three Chulu peaks encapsulates the renowned Chulu massif. This peak climbing is a bit tricky due to the vague dissection of these peaks and most often climbers are confused in rightly picking between the Chulu west climb and Chulu east.
Chulu West peak climbing basically initiates at Beshi Sahar after a short drive from Kathmandu, Nepal. From Beshi Sahar, we follow the exotic and stimulating Annapurna circuit trail heading up to Manang valley. On the way, we are treated with impressive views of beautiful landscapes, lush valleys, green forests, and alpine yak pastures. From the Manang valley, we approach the tiring climb to the north and eventually reach the peaceful spread of Chulu West base camp.
After a plenty of acclimatization and preparation, we finally head to accomplish the final chore of our journey i.e. summiting the peak. At the summit, we can relish eye-popping panorama of numerous mountains. To name these include Dhaulagiri, Annapurna II, III, IV, Tukuche, Nilgiri, Manaslu, Pisang, Gangapurna, Chulu East, and possibly others. Like every peak climbing, this stuff also asks for plenty of physical robustness and high altitude experience.
Mount Chulu west peak climbing itinerary
Day 01: Arrival day in Kathmandu, Nepal
Day 02: Drive from Kathmandu to Bhulbhule 840m via Besi Sahar
Day 03: Trek to Sirichaur 1160 meters / 3805 feet
Day 04: Trek to Tal 1700 meters / 5577 feet
Day 05: Trek to Danakyu 2190 meters / 7185 feet
Day 06: Trek to Chame 2670 meters / 8759 feet
Day 07: Trek to Pisang 3200 meters / 10498 feet
Day 09: Trek to Manang 3540 meters / 11614 feet
Day 10: Rest day at Manang for acclimatization hike
Day 11: Trek to Yak Kharka 4050 meters / 13287 feet
Day 12: Trek to Chulu west base camp 4575 meters / 15009 feet
Day 13: Trek to Chulu High Camp
Day 14: Climb Chulu West peak 6,419 meters /21059 feet and back to base camp
Day 15: Trek to Thorung high camp 4925 meters / 16158 feet
Day 16: Cross Thorung La 5416 meters / 17769 feet then continue to Muktinath 3760m
Day 17: Trek to Kagbeni 2810 meters / 9219 feet
Day 18: Trek to Jomsom 2720 meters / 8923 feet
Day 19: Flight / drive back to Pokhara
Day 20: Drive from Pokhara to Kathmandu
Day 21: Transfer to airport for departure
Chulu west peak climbing trip cost US$:
Services included on Chulu west peak climbing package
# Airports pick up on your arrival day by private vehicle
#Hotel in Kathmandu for 2 nights before and after trek
# Drive from Kathmandu to Bhulbhule by private vehicle
# All meals (Breakfast, Lunch & Dinner) 3 cups of hot drink each day on choice
# Best accommodation at tea houses during Annapurna trek period
# Professional climbing / trekking guide service trained by government of Nepal
# Highly experienced Sherpa, cook, porter and other support staffs
# Peak climbing permit, governmental procedure and local taxes
# High quality peak climbing & camping equipment's
# Flight / drive from Jomsom to Pokhara to Kathmandu
# Hotel accommodation in Pokhara for 1 night
# Travel and rescue arrangements if require
Service excludes on Chulu west peak climbing in Himalayas
* Visa fees / international airfare to and from Kathmandu
* Hotel, Lunch and dinner in Kathmandu
* Personal expenses phone calls, mineral water, bar bills, hot shower, battery recharge, extra porters & gears etc
* Tips for guides, porters (Tipping are expected but not mandatory)
Climbers need to be physically fit and mentally prepared to take on the challenge of Chulu West Peak. Climbing Chulu West Peak is a challenging and exhilarating experience that rewards climbers with stunning views and a sense of achievement. With proper preparation and guidance, this climb is an achievable goal for experienced mountaineers who are looking for a new challenge in the Himalayas.
Our Chulu West peak climbing package is manageable in spring and autumn season and is also open for necessary customization as per your request. Please feel easy to write us for any further details on the matter. We will be delighted to assist you with your queries and doubts.