Kanchenjunga base camp trek overview
Mount Kanchenjunga base camp trek Nepal is basically destined to explore the both base camp of Mt. Kanchenjunga, the third mightiest mountain in the world. After a long and enchanting walk, you will finally reach & explore the north and south base camp in Pang Pema 5140 meters at Kanchenjunga glacier & Ramche 4360 meters in Yalung glacier. You will be amazingly pleased if you have immense love for adventure and crazy travel stuffs.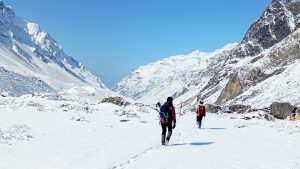 Kanchenjunga base camp trek is arguably the most enthralling and adventurous trekking trail in the Kanchenjunga region. It is loaded with traveling experience which is most often off-the-beaten and remote. The hardship of trekking has made it one of the least trekked trails of the nation. Along with exigent walk, the trail also offers fun and excitement making is perfect to try out.
The Kanchenjunga Base Camp Trek Nepal is a challenging trip that takes you to the base camp of the third-highest mountain of the world. Mt. Kanchenjunga located in Taplejung district eastern part of Nepal. It involves long and steep ascents and descents, high altitude, and unpredictable weather conditions. However, with proper planning and preparation, anyone with a good level of fitness can embark on this hike. The final ascent to the base camp is a challenging one, but the stunning views of Kanchenjunga make it all worthwhile.
It is an off-the-beaten-path journey takes you through remote villages, dense forests, alpine meadows, stunning landscapes, waterfalls and high mountain passes. Kanchenjunga trek offer unique experience compared to other popular treks in Nepal.
Kanchenjunga region is the home of various ethnic groups, like Limbu, Rai, and Sherpa people. Travelers get an opportunity to interact local to know their unique cultures, traditions and way of life.
The best time to undertake the Kanchenjunga Base Camp Trek is from September to November and from March to May, as the weather conditions are generally favorable during these months.
Mount Kanchenjunga base camp trek Nepal usually kicks off either from Taplejung or Basantapur with the prospect of elevating to the height of Kanchenjunga base camp Nepal. During the journey you will be unfolding fascinating culture of local people, eye-popping Himalayan landscapes, verity of flora and fauna, towering mountains and wandering along virgin nature on earth.
Kanchenjunga is a truly gifted mountain that sorely stands as a temptation to all the adventure enthusiasts with profuse respect and admiration for mountains.
Being utterly demanding trail, you need to be physically strong. Prior alpine hiking experience will simplify the job. Come savor the ultimate feel of excitement and adventure in one of the remote and less trafficked regions of Nepal with practiced guides in Himalayas.
You can have a look at the section below for details on Kanchenjunga base camp Nepal itinerary, route information, teahouse facility and the services included. However, we would be pleased to customize a separate guided Kanchenjunga base camp trek package as per your requirements write us. We are here heartily open to answer your queries.
Mt Kanchenjunga base camp trek itinerary
Day 01: Arrival day in Kathmandu, Nepal
Day 02: Kathmandu sightseeing and preparation
Day 03: Flight to Bhadrapur then drive to Ilam
Day 04: Drive to Taplejung 1820 meters / 5971 feet
Day 05: Trek to Mitlung 890 meters / 2919 feet
Day 06: Trek to Chiruwa 1185 meters / 3887 feet
Day 07: Trek to Sukathum 1650 meters / 5413 feet
Day 08: Trek to Amjilosa 2498 meters / 8195 feet
Day 09: Trek to Gyabla 2725meters / 8940 feet
Day 10: Trek to Ghunsa 3415 meters / 11204 feet
Day 11: Rest day at Ghunsa for acclimatization and exploration
Day 12: Trek to Kambachen 4145 meters / 13599 feet
Day 13: Trek to Lhonak 4792 meters / 15721 feet
Day 14: Trek to Pangpema visit to Kanchenjunga North base camp 5143 meters / feet
Day 15: Trek back to Kambachen 4145 meters / 13599 feet
Day 16: Trek to Ghunsa 3415 meters / 11204 feet
Day 17: Trek to Sele La camp 4290 meters / 14074 feet
Day 18: Trek to Tseram 3868 meters via Sele La 4645 meters / 15239 feet
Day 19: Trek to Ramche 4610 meters / 15124 feet
Day 20: Hiking to Yalung base camp 4848 meters / 15905 feet
Day 21: Trek to Tseram 3868 meters / 12034 feet
Day 22: Trek to Tortong 2980 meters / 9776 feet
Day 23: Trek to Yamphudin 1692 meters /5551 feet
Day 24: Trek to Mamankhe 1786 meters / 5859 feet
Day 25: Trek to Kande Bhyanjyang 2190 meters / 7185 feet
Day 26: Trek to Lalikharka 2266 meters / 7434 feet
Day 27: Trek to Suketar 2420 meters / 7939 feet
Day 28: Drive to Bhadrapur and flight to Kathmandu
Day 29: Drive back to Kathmandu via Biratnagar Nepal (if flight delay)
Day 30: Airport transfer to depart Nepal
Our experience guide help in each step on rarely visited trail to scale the mount Kanchenjunga base camp altitude. It is advisable to keep Kanchenjunga base camp trek map during journey and select expert design itinerary for stress free journey.
Mount Kanchenjunga base camp trek cost US$:
Services included on Kanchenjunga base camp trek Nepal cost
# Airports pick up on your arrival day by private vehicle
# Kathmandu sightseeing as per the itinerary
# Round trip flight from Kathmandu – Bhadrapur – Kathmandu
# Transportation from Bhadrapur to Taplejung trek start point
# All meals (Breakfast, Lunch & dinner) 4 cups of hot drink each day on choice
# Normal tea houses / camping tent accommodation during KBC trekking period
# Professional English speaking guide trained by government of Nepal
# Experience trekking staffs (2 guest = 1 porter basic) to carry your backpack
# All necessary paperwork, special permits, TIMS and local taxes
# Travel and rescue arrangements if require
# Drop you to airport by private vehicle to depart Nepal
Service exclude Kanchenjunga base camp trek Nepal package
* Visa fees / international airfare to and from Kathmandu
* Hotel, Lunch and dinner in Kathmandu
* Personal expenses phone calls, mineral water, bar bills, hot shower, battery recharge, extra porters & gears etc
* Tips for guides, porters (Tipping are expected but not mandatory)
Mount Kanchenjunga Base Camp Trek in Nepal is an adventure of a lifetime, offering a unique opportunity to explore remote areas of the Himalayas and immerse yourself in the rich culture and natural beauty of Taplejung district Nepal. It's a challenging trek that requires a good level of fitness and preparation, but the reward of reaching the base camp of Kanchenjunga and experiencing the stunning mountain views is unforgettable.
About 1 months Kanchenjunga base camp trek Nepal takes travelers to the both base camp of third highest peak, north Pangpema & south Yalung glacier. Adventure exploration in remote area of Himalayas "trek to kanchenjunga base camp" makes your journey really joy full.
Kanchenjunga base camp trek video