Lo Manthang Tiji festival tour information
Lo Manthang tiji festival tour is a life time journey to celebrate Tiji festival with local as well as to explore diverse landscape, live Tibetan culture, ancient caves & monasteries. Tiji is an unusual and unique festival celebrated on the occasion of victory of faith and goodness over evil with deep legendary beliefs. It celebrates for 3 days on the month of May every year at an ancient city of Lo Manthang in Upper Mustang Nepal.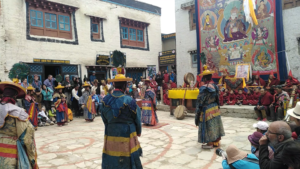 Lo Manthang tiji festival tour by jeep along the rough hilly terrain can best be enjoyed, when you are guided by an experienced travel guide through the journey. Tiji festival tour to Upper Mustang starts from Kathmandu and continue to Lo Manthang all the way through Pokhara, Beni, Jomsom, Kagbeni, Ghiling, Ghami & Tsarang. You reach one day before start the festival it helps you to observe Tiji carnival from the beginning to closing stages.
Tiji festival, also known as "Tenchi" or "Tempa Chirim" in the local language, is a three-day celebration that takes place in Lo Manthang every year during the month of May. The festival is marked by colorful masked dances, music, and prayers that are performed by the local monks in the courtyard of the ancient walled city. The Tiji festival attracts both domestic and international tourists, who flock to Lo Manthang to witness the unique cultural event.
Nepal Tiji festival tour to Upper Mustang by a jeep is not only celebrate festival bur also explore some other fascinating sites of Mustang like Ghar Gumba, Luri Gumba, Chhoser, Caves & Monasteries. The entire route to Upper Mustang is lined up with Buddhist chortens, Mani walls and shrines, the path is totally mountainous. Lo Manthang tiji festival tour an observation of absolutely stunning scenery of the mountains which you never forget.
Upper Mustang tiji festival tour by jeep to Upper Mustang Nepal is a versatile trip to experience the difference. You need special upper mustang trek permit for upper mustang tiji festival jeep tour. We arrange permit and organize trip based on your schedule and prefer with the support of experience guide to make every step easy and memorable moment.
Lo Manthang has a rich cultural history, it is famous for its annual Tiji festival, which is celebrated by the locals in honor of their patron deity, Dorje Jono. Tiji festival tour is a unique cultural experience that offers visitors the opportunity to witness one of the most vibrant and colorful festivals in Nepal. Luxury tour to Lo Manthang by jeep provides breathtaking scenery, rich culture, and warm hospitality of the Mustang region make it a truly unforgettable journey.
Lo Manthang tiji festival tour itinerary
Day 01: Arrival day in Kathmandu, Nepal
Day 02: Kathmandu sightseeing and preparation
Day 03: Drive from Kathmandu to Pokhara by luxury car / jeep
Day 04: Drive from Pokhara to Tatopani 1190 meters & enjoy natural hot spring
Day 05: Drive to Kagbeni 2810 via deepest gorge in the world
Day 06: Drive to Ghiling 3850 meters via Sammar
Day 07: Drive to Tsarang 3560 meters after exploring Dhakmar
Day 08: Drive to Lo Manthang 3840 meters via Sungda la and Lo la
Day 09: Drive to Kora la 4660 travel around drive back to Chhoser to Lo Manthang
Tiji festival start dates 2023 / 2024 / 2025
Day 10: May 16 2023: First day to see the opening of Tiji festival at Lo Manthang
Day 11: May  17 2023: Second day to observe Tiji celebration at Lo Manthang Nepal
Day 12: May 18 2023: Final day to observe Tenji festival at Choedhe monastery in Upper Mustang
Tiji celebration end date 2023 / 2024 /2025
Day 13:  Drive to Syangboche 3800 meters
Day 14: Drive to Marpha 2670 exploring Muktinath 3710 meters
Day 15: Drive to Pokhara 820 meters
Day 16: Pokhara to Kathmandu by flight or drive
Day 17: Airport transfer to depart Nepal
Lo Manthang tiji festival tour package cost US$:
Mustang Tiji Festival Dates (Updated)
Tiji Festival 2024 5th, 6th and 7th May 2024
Tiji Festival 2025 24th, 25th and 26th May 2025
Services included on Lo Manthang tiji festival tour package
# Airports pick up on your arrival day by private vehicle
# All transportation Kathmandu to Kathmandu by luxurious jeep
# Two nights hotel accommodation in Pokhara BB basic
# All meals (Breakfast, Lunch & dinner) 4 cups of hot drink each day on choice
# Best accommodation at tea houses during Mustang travelling period
# Professional English speaking guide service trained by government of Nepal
# All necessary paperwork, special permits (ACAP, TIMS) and local taxes
# Airport transfer by private vehicle to depart Kathmandu, Nepal
Service exclude on Tiji festival tour program
* Visa fees / international airfare to and from Kathmandu
* Lunch and dinner in Kathmandu
* Personal expenses phone calls, mineral water, bar bills, hot shower, battery recharge, extra porters & gears etc
* Tips for guides, drivers (Tipping are expected but not mandatory)
The Mustang Tiji Festival tour is a unique and exclusive experience that takes you to the remote regions of Mustang, in the Nepalese Himalayas. This festival is an annual event that celebrates the triumph of good over evil and is performed by the local communities of Mustang.
The tour typically starts with a scenic flight from Pokhara to Jomsom, which is the gateway to Mustang. From Jomsom, you will head towards the ancient city of Lo Manthang, where the festival is held. You will get to witness the traditional dances and masked performances, accompanied by lively music, that depict the story of Tiji.
During the festival, you will have the opportunity to interact with the local people and learn about their rich cultural heritage. The Upper Mustang Tiji Festival tour also provides an opportunity to explore the surrounding areas and enjoy the stunning landscapes of Mustang.
This festival tour is a once in a lifetime experience and is a great way to immerse yourself in the culture and traditions of Mustang. It is suitable for travelers who are interested in adventure travel and cultural exploration.
The details of the travel loop have been outlined in the itinerary section above. Please have a look at it and for any necessary changes to it and information on Lo Manthang tiji festival tour, do contact us. We will be pleased to assist you on the question.
Upper Mustang Tiji Festival Tour in Nepal