Lower Dolpo trek information
Lower Dolpo trek is yet another fascinating trekking trail in Karnali at Dolpo region. It is sorely destined to explore the virgin and untainted natural and cultural possession of lower part of Dolpa. The sparsely vegetated lower Dolpo area offers exotic and remote walking experience at the purest form. The region, however, has remained fairly visited by the trekkers from around the world.
Being a restricted trekking destination, trekkers need to acquire special trekking permit from the authorized body to relish the pleasure of composed and calm hiking experience in the region. Lower dolpo permit cost is US$ 10 per week / person, we will arrange all permits. Lower dolpo trek Nepal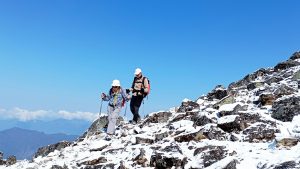 organize camping basic only. It is compulsory to trek with a guide and organize throw local trekking company Nepal.
Lower Dolpo is located in the north-western part of Nepal, bordering Tibet. It is one of the most remote and least developed regions untouched by modernity. Dolpa region is home to the Dolpo people, who have preserved their unique culture, bon po and lifestyle for centuries. The landscape of Lower Dolpo is rugged and barren, with high mountains, deep valleys, and crystal-clear rivers.
Sited to the north western limit of Nepal, Lower Dolpo trek is worth of a visit for its pristine natural and cultural blend. Dolpo people still practice pre-Buddhist, shamanistic Bon-po religion as well as Tibetan Buddhism.Trekking along the Lower Dolpo, you will find the region truly remote and isolated from the contemporary world. The people of the region exhibit Tibetan Buddhism culture which incorporates chirpy and vivacious traditional practices.
The trail unfolds dramatic landscapes, scenic grate-Himalayan ranges, verdant forests, and jaw-dropping panorama of snow-capped peaks. The major attractions of this endeavor can be sorted as Shey Phoksundo National Park, Shey Phoksundo Lake, Buddhist monasteries, Kagmara La, Baga La, and Numa La, rare wildlife and stunning Himalayan panorama of Kanjiroba, Annapurna, and Dhaulagiri massif.
You can also have the opportunity to traverse along the ancient traditional villages of Tarakot, Dho, Tarap, etc. It is possible to combine this area with Upper Dolpo trek to get lifetime experience.
The region boasts immense logistic complication which makes trekking thrilling and adventurous, not allowed to trek independently. We sincerely recommend this trek for those with sound physical fitness and prior trekking or hiking experience.
Monsoon and autumn season is the best time to visit lower dolpo, when temperatures are pleasant, skies are the clearest and least chance of snow at high altitudes.
Lower Dolpo trek itinerary
Day 01: Arrival day in Kathmandu, Nepal
Day 02: Kathmandu city tours and preparation
Day 03: Flight from Kathmandu to Nepalgunj
Day 04: Flight to Jhupal (Dolpa) 2475 meters / 8120 feet then trek to Dunai 2140 meters / 7020 feet
Day 05: Trek to Tarakot 2540 meters / 8333 feet
Day 06: Trek to Laina 3370 meters / 11056 feet
Day 07: Trek to Nawarpani 3780 meters / 12401 feet
Day 08: Trek to Dho tarap 3944 meters / 12939 feet
Day 09: Walking around Dho Tarap for Acclimatization
Day 10: Trek to Numa La base camp 4440 meters / 14563 feet
Day 11: Cross Numa La pass 5238 meters / 17185 feet, camp at Danigar 4512 meters /14803 feet
Day 12: Cross Baga La pass 5169 meters / 16958 feet, trek to Yak Kharka 3860 meters / 12664 feet
Day 13: Trek to Ringmo 3,641 meters / 11943 feet
Day 14: Explore around Phoksundo Lake
Day 15: Phoksundo Lake to Shyanta 2520 meters / 8265 feet
Day 16: Shyanta to Jhupal 2475 meters / 8120 feet
Day 17: Flight to Nepalgunj to Kathmandu
Day 18: Airport transfer by private vehicle to depart Nepal
Incredible Lower Dolpo trek cost US$:
Services included on Lower Dolpo trek trip cost
# Airports pick up on your arrival day by private vehicle
# Round trip flight from Kathmandu Nepalgunj
# Round trip flight from Nepalgunj to Jhupal to Nepalgunj
# Two nights hotel accommodation in Nepalgunj BB basic
# All meals (Breakfast, Lunch & dinner) 4 cups of hot drink each day on choice
# Accommodation at organize camping tent during Dolpo trekking period
# Professional English speaking guide service trained by government of Nepal
# Trekking staffs to carry your backpack & camping equipments
# All necessary paperwork, special permits (SPNP, TIMS) and local taxes
# Travel and rescue arrangements if require
# Airport transfer to depart Nepal
Service exclude Lower dolpo trekking package
* Visa fees / international airfare to and from Kathmandu
* Lunch and dinner in Kathmandu
* Personal expenses phone calls, mineral water, bar bills, hot shower, battery recharge, extra porters & gears etc
* Tips for guides, porters (Tipping are expected but not mandatory)
Lower Dolpo Trek is a journey into the heart of Nepal's Wild West, where one can experience the raw beauty of the Himalayas and witness the simple yet fascinating lifestyle of the Dolpo people. The trek offers a chance to disconnect from the chaos of modern life and connect with nature and oneself. It is a journey that requires courage, determination, and a sense of adventure. But those who undertake it will be rewarded with an experience that they will never forget.
We organize Lower Dolpo circuit trek in the best season of the year with our proficient and friendly trekking guides. The details of the package have been outlined below. However, we can arrange a separate one as per your request. For further information on Lower Dolpo trek, please feel at ease to mail us. We will feel delighted to assist you on the matter.