Makalu base camp tea house trek overview
Tempting the trekkers from around the world and revealing the remote and exotic natural wilderness concealed in the mystical geographical possession of Makalu trekking region. Makalu base camp tea house trek is arguably one of the finest trekking trails of the region.
The best time to undertake Makalu trek is in spring and autumn seasons. During spring and autumn trail is filled with beautiful flowers, perfect weather and clear blue sky and provides perfect view of the surrounding mountains.
The journey to Makalu Base Camp is not for the faint of heart. The trail is steep up and down, challenging. Altitude can be a significant hurdle for novice trekkers. However, the rewards of reaching the base camp are unparalleled. The view of Makalu's towering peak, surrounded by other snow-capped mountains, is breathtaking.
Tea houses in between trail are basic, but cozy. They provide comfortable resting place, warm bed, hot shower, and traditional Nepali cuisine for trekkers. Lodges are run by local families as a source of income for the community.
This off-the-beaten-path trails to the base camp of Mount Makalu elevation of 8,485 meters / 27,838 feet the fifth highest peak of the world. Mt Makalu is again the truly noteworthy snow giant that essentially resides in the heart of great Himalaya spreading along the border between Nepal and China.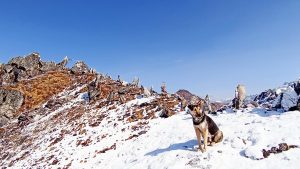 During Makalu base camp trek the impressive vista of mountains such as Mount Makalu, Everest, Bharuntse, Kanchenjunga and possibly others make your travel astoundingly wonderful and memorable. You can explore the beguiling natural treasure and wildlife of Makalu Barun conservation Area. The months of spring and autumn seasons consider as the best time of the year to visit Makalu base camp.
Customarily, Tumlingtar serves as point of initiation for trekking up the Mt. Makalu base camp Nepal. Trekkers will be enchanted by the beautifully appearing villages, lush forests, and rugged terrains with lively and heartily interaction with the local people who are amazingly charming and hospitable.
Let's go to scale the elevation of Mount Makalu base camp, the fifth highest mountain in the world.Either basic tea hut or organize camping trekking options are available to explore this isolated corners of Nepal.
As trail involves challenging ascend, a considerable amount of physical robustness will certainly benefit in proper and easy conduct. Further your Makalu base camp trek voyage will be closely supported and assisted by our experienced and cheerful guides.
Please feel comfortable to make an inquiry in case of any doubts on the matter. We will heartily try our best to assist you with genuine and generous information on Makalu base camp trek in Himalayas.
Mt. Makalu base camp tea house trek itinerary
Day 01: Arrival day in Kathmandu, Nepal
Day 02: Kathmandu sightseeing and preparation
Day 03: Flight to Tumlingtar then drive to Chichira 1,980 meters /6497 feet
Day 04: Trek to Num 1,560 meters /5119 feet
Day 05: Trek to Seduwa bazaar 1,500 meters /4922 feet
Day 06: Trek to Tashigaon 2,100 meters /6890 feet
Day 07: Trek to Khongma 3,500 meters /11,483 feet
Day 08: Rest day for Acclimatization
Day 09: Trek to Dobate via Keke La pass 4200 meters
Day 10: Trek to Yangle Kharka 3,557 meters / 11,670 feet
Day 11: Trek to Nangmale 4,410 meters / 14,468 feet
Day 12: Trek to Makalu base camp 4,870 meters /15,978 feet
Day 13: Excursion around Makalu base camp
Day 14: Trek from MBC to Yangle 3,557 meters / 11,670 feet
Day 15: Trek to Dobate
Day 16: Trek to Khongma Danda 3,500 meters
Day 17: Trek to Tashigaon 2,100m
Day 18: Trek to Seduwa 1,500 m
Day 19: Trek to Num village 1,560 meters
Day 20: Drive to Tumlingtar 285 meters
Day 21: Flight back to Kathmandu
Day 22: Airport transfer to depart Nepal
Let's check how much does it cost to explore less frequented route of Makalu Barun national park. Discover the base camp of Mt Makalu 8,485 meters, the fifth highest mountain of the planet.
Makalu base camp trek cost for foreigner US$:
Services included on Makalu base camp tea house trek cost
# Airports pick up on your arrival day by private vehicle
# Kathmandu sightseeing as per the itinerary
# Round trip flight from Kathmandu – Tumlingtar – Kathmandu
# Transportation from Tumlingtar to Chichira trek start point
# All meals (Breakfast, Lunch & dinner) 4 cups of hot drink each day on choice
# Best accommodation at tea houses during Makalu trekking period
# Professional English speaking guide trained by government of Nepal
# Experience trekking staffs (2 guest = 1 porter basic) to carry your backpack
# All necessary paperwork, trekking permits, TIMS and local taxes
# Travel and rescue arrangements if require
# Drop you to airport by private vehicle to depart Nepal
Service exclude Makalu base camp trekking package
* Visa fees / international airfare to and from Kathmandu
* Hotel, Lunch and dinner in Kathmandu
* Personal expenses phone calls, mineral water, bar bills, hot shower, battery recharge, extra porters & gears etc
* Tips for guides, porters (Tipping are expected but not mandatory)
The Makalu Base Camp Tea House Trek is one of the most awe-inspiring journeys to base camp of Mt Makalu, the fifth highest mountain in the world. This off-the-beaten-path trek takes you through diverse landscapes, including lush forests, raging rivers, unique culture and remote villages of Eastern Nepal.
Makalu Base Camp Tea House Trek is a journey of a lifetime, offering trekkers an opportunity to experience the Himalayas' natural beauty, wildlife, witness the unique culture and lifestyle of local societies. Makalu trek requires determination, endurance, and an adventurous spirit, but the rewards are well worth it.
Makalu base camp trek itinerary is not an easy feat but worth to see observe verity of vegetation and fauna in natural botanical garden. If you interested to discover the beauty of nature do not hesitate to email us.