Upper Mustang Mountain biking tours Nepal
Embark on upper mustang mountain biking tours Nepal is an ultimate journey in Himalayas. Upper mustang mountain biking tours will provide you an opportunity of exploring the ancient Buddhist culture, lifestyle and unique landscape of the region. You will get the taste of their traditions, culture, values and heritage from the point of the architectural side. The biking route takes riders through the rugged and remote terrain of the Upper Mustang , where riders pass through traditional Tibetan villages in stunning landscapes.
Actually biking in mustang is an awe-inspiring exploration and a phenomenal discovery that you'll never forget. Mountain biking mustang Nepal on the mountain throws many challenges at you; it gives the great joy to overcome that. Mustang region is famous for its spectacular mountain biking trails, which offer an exciting and adventurous experience for all types of mountain bikers.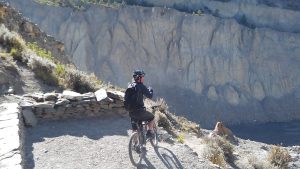 Lo-Manthang is the final destination of mountain biking trip to upper mustang. Lo Manthang is the capital city of forbidden kingdom, greatly influenced by the Tibetans and their earlier traditions. Thus you will be able to embrace pure passion and true spirit in an unlimited manner on embarking on the mountain biking adventure.
Upper Mustang Mountain Biking Tour is a challenging adventure that requires physical fitness, skill, and stamina. The terrain is rugged and remote, and the high altitude can make it difficult for some riders. However, the rewards of the tour are unparalleled, with breathtaking landscapes, cultural immersion, and a sense of accomplishment that comes from completing a exciting adventure.
You will be able to live your passion and explore your true spirit with the upper mustang mountain bike tour. Riding till the Tibetan border "Kora La pass" and Chhoser village depends on the interest of the riders. Kaligandaki valley and the mountains will surround your entire biking route, and you will never fail to notice the beauty of Mother Nature.
Upper Mustang mountain bike trip is a thrilling journey of the Himalayas. Upper Mustang biking tours systematize in slower pace to minimize the risk of altitude sickness. You have to take permission to do so. We will help you to solve all permits and legal documents preparation. We organize guided upper mustang mountain bike tour with full board and partial service basic according to your desire.
Upper Mustang Mountain biking tours itinerary
Day 01: Arrival day in Kathmandu, Nepal
Day 02: Kathmandu sightseeing and preparation
Day 03: Drive from Kathmandu to Pokhara by private vehicle / flight
Day 04: Flight to Jomsom then mountain biking to Kagbeni
Day 05: Bike riding to Chele (Tsaile)
Day 06: Ride to Ghiling 3850m via Sammar
Day 07: Biking to Tsarang 3560m
Day 08: Mountain biking to Lo Manthang 3840
Day 09: Biking to Kora la 4660m explore around, back to Chhoser to Lo Manthang
Day 10: Biking to Dhakmar
Day 11: Biking to Sammar village
Day 12: Bike ride to Muktinath 3710m
Day 13: Mountain biking to Marpha
Day 14: Drive back to Pokhara by private vehicle
Day 14: Drive /flight back to Kathmandu
Upper mustang biking tours Nepal cost US$:
Services included on Upper mustang bike tours package
# Airports pick up on your arrival day by private vehicle
# Pokhara to Pokhara Support vehicle with mountain biking tour
# Two nights hotel accommodation in Pokhara BB basic
# All meals (Breakfast, Lunch & dinner) 4 cups of hot drink each day on choice
# Best accommodation at tea houses during Mustang bike tour
# Professional English speaking tour guide service trained by government of Nepal
# All necessary paperwork, special permits (ACAP, TIMS) and local taxes
# Airport transfer by private vehicle to depart Nepal
Service exclude on lo manthang mountain bike trip
* Visa fees / international airfare to and from Kathmandu
* Lunch and dinner in Kathmandu
* Personal expenses phone calls, mineral water, bar bills, hot shower, battery recharge, extra porters & gears etc
* Tips for guides, drivers (Tipping are expected but not mandatory)
The best time to go on a mountain biking tour in Upper Mustang is from September to November and March to May when the weather is pleasant, and the skies are clear. It is essential to have a good level of fitness and experience in mountain biking, as the terrain is challenging and steep in places. Upper Mustang mountain biking tours in Nepal offer a unique and thrilling experience that combines challenging terrain, stunning landscapes, and a rich cultural heritage. If you are an adventure seeker and a mountain biking enthusiast, this tour should be on your bucket list.
Our professional mountain bike guide lead your entire journey support vehicle follow you with your luggage. Mountain biking route follow either off road or single track to reach upper mustang Nepal. Write us to get the private trip quote of upper mustang mountain biking holidays.