Upper mustang Tiji festival trek details
Upper mustang tiji festival trek and trail is famous enlightening and spiritual celebration trip in Lo Manthang Nepal. Tiji festival is all about holiness where the holy power defeats the demon. The cultural dances perform by the monks with mythical story at Chode monastery. Traditional Tibetan songs; custom colorful dress, swords dance are the major attractions of Lo Manthang Tenchi festival trek. Lama plays the traditional music, drums, horns and more during the celebration.
You fall in love with mesmerizing landscape, intact Tibetan ethnicity and mountain ranges in the Himalayas. Folks from different community come to celebrate this festival with their traditional dress. It gives you the exciting experience similar to the earliest time of Tibet.
Tiji festival celebrates for 3 days in May at Lo Manthang an isolated part of Upper Mustang Nepal. It is not difficult to attend Tiji festival celebration program. Tiji festival has religious and cultural significance for the local people. It is one of the most remarkable three-day's events that takes place annually in an ancient city of Lo Manthang. Tiji celebration is a mixture of dance, music, and ritual to dispel evil forces and to bring peace and prosperity to the land.
Elevation of Lo Manthang is not very high; any one can go to celebrate, no worry about altitude sickness. We suggest all travelers to go slowly with proper adaptation rest on the way to Upper Mustang.
During the journey of Tiji festival trek you can see the Mount Dhaulagiri, Annapurna above 8000 meters peaks. Now; travelers can go to upper mustang by jeep and bus also.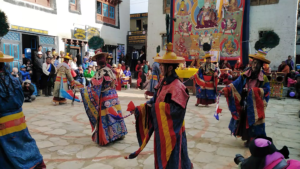 Upper mustang trek is the best option to see the scenery. If you would like to use the vehicle then we suggest you to use the jeep to go to Lo Manthang and bus to come back throw different route.
Many pilgrimages from the world come to attend the holy festival of Tiji. Spend three days in Upper Mustang to experience culture and festival except regular trekking schedule. Enjoy fantastic insight of art, culture and music of Tibet in Upper Mustang Tiji Festival trek. Would you like to attend the royal Upper Mustang Tiji festival trek? Write us to get the private or group joining date and cost according to your requirement.
Are you searching comfort tours instead of upper mustang trek to observe tiji festival? No worry! Lo Manthang Tiji Festival celebration Journey by luxurious jeep to Upper Mustang available, contact us to get detail & book in advance to secure the space.
Upper Mustang Tiji festival trek itinerary
Day 01: Arrival day in Kathmandu, Nepal
Day 02: Kathmandu sightseeing and preparation
Day 03: Kathmandu to Pokhara by flight or overland jeep
Day 04: Pokhara to Jomsom by flight then trek to Kagbeni 2810 masl
Day 05: Trek to Chele 3050 masl via Tangbe and Chhusang
Day 06: Trek to Ghiling 3570 masl via Sammar, Dajong la, Bhena la & Syangboche la
Day 07: Trek to Dhakmar 3820 masl via Nyi la and Ghami la
Day 08: Trek to Lo Manthang 3810 masl via Marang la, Ghar Gumba and Mui la
Day 09: Day trip to Explore Lo Manthang & Chhoser by jeep, horse or walk on choice
Tiji "Tenchi" festival start dates 2023 / 2024 / 2025
Day 10: May 16 2023: First day to see the opening of festival at Lo Manthang
Day 11: May 17 2023: Second day to observe Tiji celebration at Lo Manthang Nepal
Day 12: May 18 2023: Final day to observe Tenchi festival at Choedhe monastery in Upper Mustang
Tiji celebration end date 2023 / 2024 / 2025
Day 13: Trek to Tsarang (Charang) 3560 masl via Sungda la and Lo la
Day 14: Trek to Yara via Dhigaon & Surkhang visit Tashi Kabum, Gharagaon, Luri Gumba
Day 15: Trek to Tangge 3240 masl via Dhechyang Khola valley
Day 16: Trek to Chhusang 2980 masl via Paha, Siyarko Tangk Danda
Day 17: Trek to Jomsom 2820 masl via Tangbe, Kagbeni and Ekle Bhatti
Day 18: Morning flight or drive back to Pokhara on choice
Day 19: Pokhara to Kathmandu by flight or drive
Day 20: Airport transfer to depart Nepal
Upper mustang tiji festival dates
Tiji Festival 2024 5th, 6th and 7th May 2024
Tiji Festival 2025 24th, 25th and 26th May 2025
Booking open for mustang Tenchi festival trekking package, let's check how much you have to spend for upper mustang tiji festival trek in Nepal.
Tiji festival trekking to Upper Mustang cost US$: 2345 per person
Lo Manthang Tiji festival tour by jeep and upper mustang tiji festival jeep tour package also available with us.
Services included
# Airports pick up on your arrival day by private vehicle
# Transportation Kathmandu – Pokhara by private vehicle / flight according to your preference
# Two nights hotel accommodation in Pokhara BB basic
# Round trip Flight from Pokhara to Jomsom to Pokhara
# All meals (Breakfast, Lunch & dinner) 4 cups of hot drink each day on choice
# Best accommodation during upper Mustang tiji festival trekking period
# Professional English speaking guide service trained by government of Nepal
# Experience trekking staffs (2 guest =1 porter basic) to carry your backpack
#All necessary paperwork, special permits (ACAP, TIMS) and local taxes
# Travel and rescue arrangements if require
# Airport transfer by private vehicle to depart Kathmandu, Nepal
Service exclude
* Visa fees / international airfare to and from Kathmandu
* Lunch and dinner in Kathmandu
* Personal expenses phone calls, mineral water, bar bills, hot shower, battery recharge, extra porters & gears etc
* Tips for guides, porters (Tipping are expected but not mandatory)
Most important tiji festival dates declared as per Tibetan lunar calendar. Advance booking available to join to celebrate Upper mustang tiji festival trek events with local in Lo Manthang Nepal. "Tashi delek" You are welcome in Mustang to celebrate Cultural Tiji Festival trek with local. Being local destination expert it's our pleasure to provide you an opportunity to celebrate Tenchi festival in Lo Manthang. In conclusion, Nature and cultural discovery tiji festival trek takes you through most beautiful landscapes of Nepal. Trip provides once-in-a-lifetime experience.
The Upper Mustang Tiji Festival trek is an exciting adventure that takes you to the hidden kingdom of Upper Mustang in Nepal. The Tiji Festival is a religious festival that celebrates the victory of good over evil and is held annually in the walled city of Lo Manthang. The festival is characterized by colorful masks, dance, music, and rituals that date back to the Bon-Buddhist era.
The trek to Upper Mustang begins in Jomsom and takes you through the beautiful landscapes of the Annapurna region. You will cross several high passes, including the Thorong La Pass, and see the breathtaking views of the Himalayas. The trek also takes you through traditional villages, where you can witness the unique culture and lifestyle of the local people.
As you reach Lo Manthang, you will have the opportunity to witness the Tiji Festival in its full glory. The festival is celebrated over three days, and the main highlight is the dance of the Monks, which symbolizes the victory of good over evil. The festival is a unique experience that will leave you with a lasting impression of the rich culture and tradition of the Upper Mustang people.
In conclusion, the Upper Mustang Tiji Festival trek is an ideal adventure for anyone looking to explore the hidden gems of Nepal and immerse themselves in the local culture and traditions. With breathtaking scenery, challenging hikes, and a once-in-a-lifetime festival experience, this trek is a must for anyone looking for a truly unique adventure in Nepal.
Upper Mustang Tiji Festival Trekking Nepal