Upper mustang trek distance
Total walking distance of Upper Mustang trek is 124 kilometers / 77 miles' round trip from Jomsom. It means Upper mustang trek distance 62 km / 38.5 miles each way.It includes visiting the ancient monasteries, caves, and beautiful landscapes that the region is famous for.  It is low elevation trek in this way no need to take a rest for acclimatization in between. Along the way, visitors will come across traditional Tibetan-style villages, ancient monasteries, and other cultural landmarks that have remained unchanged for centuries. It is important to go to upper mustang trekking slowly to minimize the risk of Acute mountain sickness.
Upper Mustang is a culturally and historically significant region of Nepal. there is an important trade route between Nepal and Tibet. Its strategic location made mustang a hub of Buddhist religion and culture. There are many ancient monasteries, chortens, and caves that date back to the 8th century.
Upper mustang has a unique topography that is different from the other parts of Nepal. unique flora and fauna, including snow leopards, blue sheep, and Tibetan gazelles etc found in this region. Visitors to mustang can witness the unique blend of adventure, culture, and natural beauty.
Luxury jeep tours to mustang trip suitable for all level of travelers. Perfect physical condition is the key of successful trekking in Himalayas. Let us to know your physical fitness, age and conditions, then we will suggest you the suitable option either trekking or tour package to discover lower to upper mustang Nepal.
Day by day travel distances on upper mustang trekking route Nepal
Day 04: Jomsom to Kagbeni distance 7.7 kilometers / 7.4 mile
Day 05: Kagbeni to Chele distance 13.3 kilometers / 8.2 mile
Day 06: Chele to Syangboche distance 11.5 kilometers / 7.1 miles
Day 07: Syangboche to Ghami distance 9.3 kilometers / 5.7 miles
Day 08: Ghami to Tsarang (Charang) distance 10.2 kilometers / 6.3 miles
Day 09: Charang to Lo Manthang distance 11 kilometers / 6.8 miles
Day 10: Lo Manthang & Chhoser distance 6 km / 3.7 miles
Day 11: Lo Manthang to Dhakmar distance 17.5 kilometers / 10.8 miles
Day 12: Dhakmar to Ghiling distance 13 kilometers / 8 miles
Day 13: Ghiling to Chhusang distance 15 kilometers / 9.3 miles
Day 14: Chhusang to Jomsom distance 18 km / 11.1 miles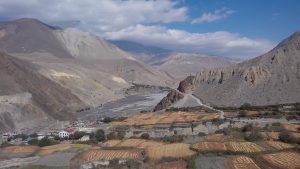 Mainly takes time for trek depends on the walking speed and physical fitness. Mustang trekking suitable for those capable to walk 5 to 7 hours each day. Those cannot walk we do provide upper mustang tour package by luxury jeep to observe its unique nature and Tibetan culture. I think now you are clear about the tentative idea of day by day distances traveled on upper mustang trek and tour program.
Upper Mustang Trek is a unique and unforgettable journey that takes visitors through a hidden kingdom that few people have had the chance to explore. With its breathtaking landscapes, ancient culture and traditions, and fascinating history, it is a must-visit destination for anyone who wants to experience the best of Nepal's natural and cultural wonders.
All you need to know rough idea of daily distances traveled on ancient caravan route upper mustang trek distance. It helps all to plan and prepare an exotic journey physically, mentally and economically. If you have any more question and confusion on it destination expert happy to make you clear write us.
Upper mustang trek distance