Upper mustang trek in autumn season
The months of Autumn season are an ideal time to visit upper mustang area. Autumn have a tendency to offers favorable temperatures, clear skies, no rain and snowfall. From the second week of September to the second week of December, the weather conditions of mustang become very nice to go for trekking and overland tour by 4wd jeep.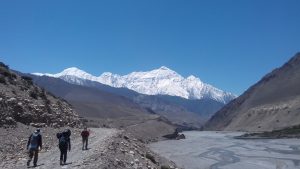 If you are planning to visit Upper Mustang, then plan a trip in autumn months.
Mustang situated in the rain shadow of Dhaulagiri and Annapurna range of Himalayas in northern central part of Nepal near the edge of Tibet. It is possible to explore this area from march to November months.
Generally autumn season starts from September and end at October. Because of the global warming unexpected changes on weather occurs in Himalayas. Monsoon stop late in this way the first two weeks of September are not suitable for travel and trekking to mustang Nepal.
Upper Mustang Trekking in autumn is a delightful experience for trekking enthusiasts. Autumn season offers a clear and mesmerizing view of the Mustang valley Nepal. The temperature remains mild; weather is mostly sunny which makes a perfect time for trekking.
The landscape of Upper Mustang is unique, with barren hills, deep gorges, and hidden caves that make the trek even more exciting. walking trails pass through the barren landscape of the Upper Mustang, where you can witness the unique culture and lifestyle of the locals.
If you would like to explore upper mustang in best weather conditions, then book trip onwards the second week of September till to second week of December. Some suggested trip to upper mustang for autumn season listed below for reference.
Let's plan a custom trip now for you to travel culturally rich and naturally beautiful Nepal.
List of Upper mustang trekking in autumn
Autumn is the main season for trekking in other areas like Everest, Annapurna, Kanchenjunga, Makalu, Rolwaling, Dolpo and Langtang regions of Nepal as well. Many people from around the world visit Nepal in the months of September, October to November. Autumn months provides splendid views, clear visibility, blue sky with finest temperature. it provides lifetime experience in the Himalayas.
Moderate temperature of high elevation provides easy travel experience in autumn season. Major festivals of Nepal like Teej, Dashain, Tihar, Chhath occurs in autumn, interested can participate on festival celebration with locals. Upper Mustang trek in autumn is one of the unique trip to explore Tibetan civilization, pure Buddhist culture and mysterious landscape of Himalayas.
Trip takes you to explore the Himalayan mountain ranges near the Nepal Tibet border and watch the spectacular beauty of the cold desert and snowcapped mountains.  If you are searching an interesting trip into the "Last Forbidden Kingdom" then plan upper mustang trek in autumn season September, October and November months. Upper Mustang trek in autumn is a perfect blend of adventure and culture, making it a once-in-a-lifetime experience. Follow the local guide to ensure a safe and enjoyable journey. Write us to get the proposal of trip as per your desire and duration of holidays.
24/7: Get trip ideas from our travel specialist as per your desire & duration of holidays.