Ghorepani Poon hill to upper mustang treks in Nepal
Ghorepani Poon hill to upper mustang trek conquer famous poon hill and whole mustang districts of Nepal. Mustang trails pass through Gurung, Thakali and lowa villages, panoramic views, meet the local, visit ancient monasteries and know about untouched Tibetan culture.
The last Forbidden kingdom of upper mustang opened since 1992; then after outside world start to enter to learn about upper mustang region of Nepal. Upper mustang is a part of Nepal situated near the edge of Nepal and Tibet of China. Ghorepani, poon hill to upper mustang trek covers all major highlights of Annapurna conservation area.
Upper mustang trip begins from low elevation near Pokhara and reach to scale the height of mustang. The highland upper mustang Nepal offers really amazing views of Himalayas and provides an opportunity to observe untouched Tibetan culture in real form.
During the Ghorepani Poon hill to upper mustang treks travelers can stay in monastery in upper mustang region of Nepal. This trek starts from Nayapul one hours drive distance from Pokhara. Trekkers enter upper mustang from Kagbeni. Beautiful Kagbeni village is the main gateway to upper mustang area rain shadow of Himalayas.
Poon Hill to Upper Mustang trek is an adventure of a lifetime that offers an unforgettable experience to all those who undertake it. The trek is a perfect blend of natural beauty, cultural richness, and physical challenges. Fee to enter upper mustang is US$ 500 for first 10 days after that $ 50 per person per day extra. Book Kathmandu to upper mustang trek to discover the mysterious world.
Ghorepani Poon hill to upper mustang trek itinerary
Day 01: Drive from Kathmandu to Pokhara
Day 02: Drive to Nayapul, trek to Ulleri 1960m / 6430 feet
Day 03: Trek to Ghorepani 2860m / 9383 feet
Day 04: Hiking Pooh hill 3210m then trek to Shikha 2380m / 7808feet
Day 05: Trek to Tatopani 1190 m/ 3904 feet
Day 06: Trek to Kalopani 2530 m/ 8300 feet
Day 07: Trek to Marpha 2670 m/ 8760 feet
Day 08: Trek to Kagbeni via Dhumba Lake 2,804 m/ 9199 feet
Day 09: Trek to Muktinath 3,800 m/ 12467 feet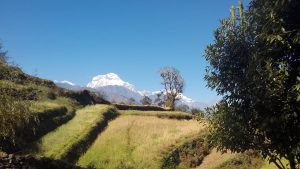 Day 10: Trek to Chele 3100 meters / 10170 feet
Day 11: Trek to Ghiling 3570 meters / 11712 feet
Day 12: Trek to Tsarang 3560 meters / 11679 feet
Day 13: Trek to Lo Manthang 3840 meters / 12598 feet
Day 14: Explore Lo Manthang and Chhoser area
Day 15: Trek to Dhakmar via Ghar Gumba 3920 meters / 12860 feet
Day 16: Trek to Syangboche 3800 meters / 12467 feet
Day 17: Trek to Chhusang 2980 meters / 9776 feet
Day 18: Trek to Kagbeni 2800 meters / 9186 feet
Day 19: Trek to Jomsom 2720 meters / 8923 feet
Day 20: Flight / drive back to Pokhara
Day 21: Drive of flight to Kathmandu
Services includes
# Airports pick up on your arrival day by private vehicle
# Round trip drive / flight from Kathmandu to Pokhara
# Pokhara to Nayapul by private vehicle (trek start point)
# All meals (Breakfast, Lunch & Dinner) 3 cups of hot drink each day on choice
# Best accommodation at tea houses during trekking period
# English speaking guide service trained by government of Nepal
# Experience trekking staffs (2 guest =1 porters basic) to carry your backpack
# All necessary paperwork, trekking permits (ACAP, TIMS) and local taxes
# Jomsom to Pokhara by drive / flight on choice / situation
#Hotel accommodation in Pokhara for 2 nights before and after trek
# Travel and rescue arrangements if require
Service excludes
* Visa fees / international airfare to and from Kathmandu
* Hotel, Lunch and dinner in Kathmandu
* Personal expenses phone calls, mineral water, bar bills, hot shower, battery recharge, extra porters & gears etc
* Tips for guides, porters (Tipping are expected but not mandatory)
Poon Hill to Upper Mustang trek is an exciting route that offers a blend of natural beauty, diverse cultures and awe-inspiring landscapes. Poon Hill to Upper Mustang trek is a moderate trekking journey that requires a good level of fitness and endurance. Trek involves long hours of walking on rough terrains, steep ascents and descents, crossing high mountain passes. However, the scenic beauty and cultural richness of the region make it all worthwhile.
Poon hill to upper mustang trek is one of the finest treks of Himalayas to explore the wall city of lo Manthang, Himalayan desert, flora fauna and high cliffs of mustang valley Nepal. We organize Ghorepani Poon hill to upper mustang trek from March to November. If you interested for upper mustang trip or need more information regarding this trip fell free to get in touch with us.