Upper mustang camping trek to the last nomads of Lo
Upper mustang camping trek a truly unique trekking experience in a remote area of mustang near tibet. Ancient salt trading track becomes recent route of upper mustang camping trek in Nepal. Exploration in forbidden kingdom of upper mustang helps to know the unhurt Tibetan culture, cave civilization, natural diversity and more about Mustang Nepal. Hidden mystery of Upper Mustang attract many people from around the world to discover it.
Mustang district is a part of Dhaulagiri zone and open for limited foreigners to explore since 1992. Upper Mustang offers some of the most scenic mountains which are still unpolluted and fairly off the beaten path. Upper mustang camping trekking package shows you to the both side of Kaligandaki valley of upper mustang area and its secrets.
It is a trekkers' paradise and yet the expense of the trek itself deters many people from coming here. The government of Nepal as kept the fees very high to prevent over-crowding in this serene area and protect its natural beauty and isolation. The route is dotted by oases of villages of the Tibetans.
How hard is Upper Mustang trek?
Most of Upper Mustang camping trek call it fairly easy for any age group, family and friends. The destination which is the Lo Manthang city lies at an elevation of 3820 meters which is much lower than many other treks. Lo Manthang is the capital city of Upper Mustang. The city itself is enclosed by high walls which are visible from quite closely during the trek. Inside the city one can find totally different world with the old Tibetan culture still maintained.
Upper mustang camping trek itinerary
Day 01: Arrival day in Kathmandu, Nepal
Day 02: Kathmandu sightseeing and preparation
Day 03: Kathmandu to Pokhara by drive / flight
Day 04: Drive / flight to Jomsom then trek to Kagbeni 2800 meters /9186 feet
Day 05: Trek to Chele 3100 meters /10170 feet
Day 06: Trek to Syangboche 3800 meters / 12467 feet
Day 07: Trek to Dhakmar 3820 meters / 12532 feet
Day 08: Trek to Tsarang (Charang) 3560 meters / 11680 feet via Ghar gumba
Day 09: Trek to Lo Manthang 3840 meters / 12598 feet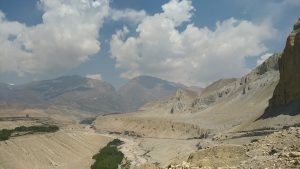 Day 10: Explore Lo-Manthang & Chhoser area 3897 meters / 12785 feet
Day 11: Trek to Yaragaon 3607 meters / 11833 feet
Day 12: Hiking to Luri Gumba explore Gharagaon & Tashi kabum caves
Day 13: Trek to Tangge 3240 meters / 10629 feet
Day 14: Trek to Chhusang 2980 meters /9976 feet
Day 15: Trek to Muktinath 3,800m / 12467 feet
Day 16: Trek to Jomsom 2720 meters / 8923 feet
Day 17: Drive / flight to Pokhara
Day 18: Drive or flight to Kathmandu
Day 19: Airport transfer by private vehicle to depart Nepal
Services includes
# Airports pick up on your arrival day by private vehicle
# Transportation Kathmandu – Pokhara by private vehicle / flight according to your preference
# Two nights' hotel accommodation in Pokhara BB basic
# Round trip Flight or drive from Pokhara to Jomsom to Pokhara
# All meals (Breakfast, Lunch & dinner) 4 cups of hot drink each day on choice
# Camping tent Space during kingdom of Mustang trekking period
# Professional English speaking guide service trained by government of Nepal
# Experience trekking staffs (2 guest =1 porters basic) to carry your backpack
#All necessary paperwork, trekking permits (ACAP, TIMS) and local taxes
# Travel and rescue arrangements if require
Service excludes 0n Kingdom of Mustang camping trek
* Visa fees / international airfare to and from Kathmandu
* Lunch and dinner in Kathmandu
* Personal expenses phone calls, mineral water, bar bills, hot shower, battery recharge, extra porters & gears etc
* Tips for guides, porters (Tipping are expected but not mandatory)
Camping trek in Upper Mustang offers a unique adventurous experience in isolated land similar to Tibet. During the Upper Mustang camping trek explorer sleep in tent, under the stars and enjoy the pristine natural beauty of the last forbidden kingdom of Nepal.
The best time to go for Upper Mustang camping trek is from March to November. During these months, the weather is clear to enjoy the stunning mountain views. Walking trail passes through barren landscapes, high desert terrain and picturesque villages, offering stunning views of Dhaulagiri and Annapurna ranges. Visitors can interact with the local people to know about their culture, lifestyle and religious practice.
Mustang camping trek is a physically demanding trek that requires a good level of fitness and endurance. Book camping trek to Mustang, enjoy unforgettable adventure in unique landscape that is unlike anywhere else in the world.
Upper mustang camping trekking route scores high when compared with other trek routes. This is another attraction for trekkers to choose the Upper Mustang Nepal. Most of the surveys conducted about route have ranked it as being excellent.If you interested to go for upper mustang trek email us to organize the trip from late march to early December with the support of expert guide.