Complete upper mustang trek packing list
Generally, trekking requires hard work and capability to adjust anywhere on earth. If you have excellence trekking gears and professional guide to lead the tour then you can make it without difficulty. Inclusive Upper Mustang trek packing list for male and female helps the trekkers to prepare backpack for upcoming trip.
Upper Mustang Trek is a popular trekking destination in Nepal that takes you through the breathtaking landscapes of the Mustang region. The trek is an incredible adventure that requires adequate preparation, especially when it comes to packing.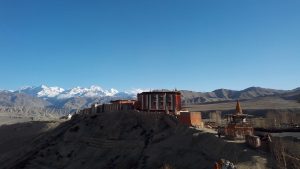 Porter carry your luggage during trekking period, Keep luggage weight under 15 kilograms per person. We suggest you to manage your day pack with valuable & important things like passport, money, daily medicine etc.
Let's plan a custom trip now for you to travel culturally rich and naturally beautiful Nepal.
Upper Mustang trekking increase your power to adjust different weather and climate easily. This trip provides you an opportunity to be close to nature and unaffected Tibetan culture. You have to carry these things which you need anytime.
Keep and carry as many things as possible to make yourself comfortable. Check complete Upper Mustang trek packing list clothing and foot wear below.
Comprehensive Upper Mustang trek packing list
1: Warm jacket with hood, waterproof and breathable
2: Hiking pants (breathable, wind and water proof)
3: Hiking shorts (breathable, wind and water proof)
4: Thermal trouser
5: Full sleeve shirt (woolen and cotton)
6: Bandana or head scarf
7: Regular underwear
8: Woolen hat & Sun hat
9: Gloves
10: Trekking boots (water proof)
11: Socks (Woolen & Cotton)
12: Sandals
13: Sunglasses with UV protection
14: Small day-pack & Medium rucksack
15: Large duffel bag
16: Padlocks for duffel-kit bags
17: Trekking poles
18: Sleeping bag
19: Headlamp
There are some other require equipment on list for upper mustang trek. When you purchase or rent all tings needed for upper mustang trek, again go through the equipment checklist for upper mustang trek in Nepal to make sure before packing. It helps you to manage backpack and duffel bag for hiking properly.
Check list of Upper Mustang trekking equipments
1: Personal medical kit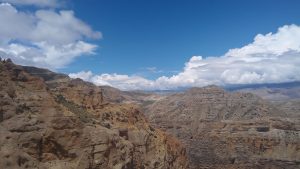 2: Water purification tablets
3: Earplugs
4: Sewing-repair kit
5: Camera
6: Knife
7: Water bottles
8: Quick drying towel
9: Toothbrush/paste
10: Multi-purpose soap
11: Nail clippers
12: Face and body moisturizer
13: Sunscreen
14: Reading book
15: Note book and pen
16: Trek route map
17: Tissue / toilet roll
18: Anti-bacterial hand wash
Upper Mustang trek packing things for the female trekker make you clear about things that you need to take. Female need some extra female hygiene products on packing list but depending on the aspiration of the trekker and her preferences.
1: Wet wipes (baby wipes)
2: Sport bras
3: Lip balm
5: Secretary Pad
Packing for the Upper Mustang Trek requires careful planning to ensure you have all the necessary items for a successful trek. These essential items will help you stay warm, comfortable, and safe during the trek. Additionally, it's advisable to carry cash as there are no ATMs in the Mustang region. With the right preparation, you can have a memorable trekking experience in Upper Mustang.
An experience of a trek can change you totally, as it makes you more knowledgeable. Upper Mustang trek packing list suitable for male and female helps you to make this trip easy. We organize fully supported Upper Mustang trek as per your desire and duration of holidays write us.
Ghar Gumba video during travel to upper mustang

24/7: Get trip ideas from our travel specialist as per your desire & duration of holidays.