Upper mustang trekking map information
The Upper Mustang trekking map provides clear idea of the Mustang trekking route, walking trail, activities and attractions of Mustang area of trans-Himalayas. It helps travelers to prepare mentally and physically for day to day walk; place to see on the way to mustang & things to do in Lo Manthang etc.
Apart from exploring the hidden beauty of this region, the Upper Mustang trek
provides the tourists the rare opportunity to know in detail about the custom and traditions of the trans-Himalayan region of Nepal. Upper Mustang trekking map is an essential guide for trekker who wants to explore lower to upper mustang region Nepal.
For all travelers who book upper mustang trek with us will get upper mustang trek map before starting the trip. Upper Mustang trekking map enables the trekkers to find out the trekking trails that lead you to Lo Manthang so as to explore Upper Mustang in the best possible way.
This trek trail offers the trekkers' awe-inspiring sceneries, splendid views of the snow-capped Himalayan peaks, sky caves, views of the barren ridges and beautiful ancient monasteries too. Those who enter Lo Manthang, the capital of Upper Mustang realize that this place is entirely different from the rest of the world.
Let's plan a custom trip now for you to travel culturally rich and naturally beautiful Nepal.
Lo Manthang is the final destination of the Upper Mustang trek route require special permit. Professional guide briefing travelers about untouched Tibetan culture, tradition & unique landscape of mustang while walking from lower mustang to upper. Upper mustang is one of the popular travel destination of Himalayas to discover ancient Tibetan culture and unique nature. Final destination of this trip is Lo Manthang which is surrounded by high walls from all sides.
The Upper Mustang trek Nepal route goes through the ancient salt caravan path according to Upper Mustang trekking map. If you would like to buy upper mustang trekking map contact us, we do supply Upper Mustang trek map on your door.
Upper Mustang trek map is an essential tool for anyone planning to trek in the Mustang region. The map provides detailed information about the trek route, the topography of the region, accommodation facilities, and cultural and historical significance of the region. Trekkers can use this map to plan their itinerary, navigate through the trekking route, and appreciate the unique cultural and natural beauty of Mustang.
Those who strictly follow the Upper Mustang trek map are able to explore the forbidden kingdom of Mustang in detail. Our cheerful guides who are generously concerned about your safe and wonderful journey to Upper Mustang Nepal. We also operate customized packages to visit Mustang. Please contact us in case of any queries and information required.
Upper Mustang trek map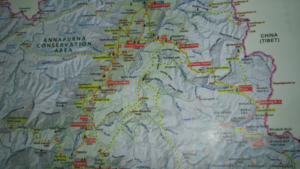 24/7: Get trip ideas from our travel specialist as per your desire & duration of holidays.