Upper Mustang trek cost and reviews
There are different types of packages available to explore hidden Shangri-La of upper mustang Nepal. Upper Mustang trek cost depends on the quality of service and type of package like luxury and budget that you choose. Upper mustang trek gives you a glimpse of delightful beauty of the Himalayas.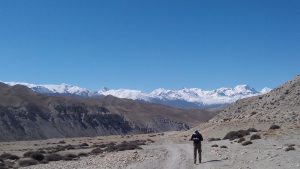 Upper Mustang is a remote and mystical region of Nepal to explore ancient Buddhist culture, colorful prayer flags, chortens and monasteries. its remote location and challenging terrain, the cost of trekking to Upper Mustang can be higher than other popular treks in Nepal. The cost of the Upper Mustang trek depends on various factors, such as the duration of the trek, mode of transportation, the number of days spent in Kathmandu, and the level of comfort you seek.
Shrine of Tibetan Buddhist, interaction with local people and their culture provides you memorable experience. Stunning topography of this land surrounded with red hills, high mountains, still unknown to many. Mustang trekking region is a dream destination for travelers from around the earth.
Let's plan a custom trip now for you to travel culturally rich and naturally beautiful Nepal.
How much to spend in Upper Mustang Nepal
The overall Upper Mustang trek cost per person is US$1750 to US$4500. Different company offer varied cost of upper mustang trek package according to the qualitu of services that they provide. Upper mustang trekking permit is expensive in this way trip cost become quite higher than other destination.
Trekking tours cost depend on duration, where you start and how you get there. Group joining trip cost for fixed date quite cheap check the date and space availability. If you are searching budget trip in mustang then try lower mustang trek. Private Upper Mustang trek is quite expensive but highly recommended and lifetime experience guaranteed.
Cost to issue the Upper mustang trek permit
Cost to issue the permit for 10 days is US$500 per person then after it will be US$ 50 per additional day. It takes 12 o 15 days in total to complete upper mustang tour to see the amazing sights of the world.
How much is the cost of food & accommodation in Upper Mustang?
Apart from restricted area permit, TIMS and ACAP permit also needed. Trekkers will have to hire porter, guide throw reputed trekking agency Kathmandu. Food and accommodation cost is essential requirements during trek. Approximate cost for food & accommodation during this trek is about US$ 5 to 7 for each meal and 5 to 10 per night for lodge to sleep.
Beside that you have to pay for your personal belongings, gears and every extra service you get, for example, charging electronics, beverage, snacks, bar bill, hot shower, tips, entry fees to visit monasteries. These major requirements affect the Upper Mustang trek package cost.
Cost of Upper Mustang trek include and exclude
An upper mustang area is different from other because of the unique views, snowy and cold Himalayas. Trekking to Upper Mustang is a fabulous journey that remains etched in trekkers' heart forever. We suggest all travelers to book full board package; cost covers almost everything and major requirements for trek. Trekking agents Nepal manages your food, lodge, guide porter transportation and permits; which makes your trip to mustang Nepal hassle free.
Upper Mustang trek is a unique and rewarding experience that requires careful planning and budgeting. The cost of the trek depends on various factors, but you can expect to spend between $1,800 and $4,500 per person. With its breathtaking landscapes, ancient culture, and friendly people, the Upper Mustang trek is an adventure of a lifetime that is worth every penny.
Hopefully; now you are clear about the overall Upper Mustang trek cost information. Upper mustang is often referred as a mystique valley, if you are interested for upper mustang trek, luxury upper mustang tours write us. We are always happy to organize mustang tours according to your wish to make you happier.
Upper Mustang Trek for Tiji Festival

24/7: Get trip ideas from our travel specialist as per your desire & duration of holidays.