Yara to Tangge trek overview
Yara to Tangge trek distance is 18.3 kilometers / 11.3 miles. The ancient Tibetan culture, Buddhist monasteries, sky caves and diversified traditional practices of ethnic people of this region will pleasingly sum up the cultural delight of this trek. Yara to Tangge trek follows up and down trail in arid land but offer spectacular views. It requires about 6 to 7 hours walk to reach Tangge from Yara village in mustang. Yara village is the meeting point of Muktinath to Damodar kunda trek and Trei la pass trek via Nar Phu valley also. Tangge village is home to several ancient caves and monasteries that are worth exploring.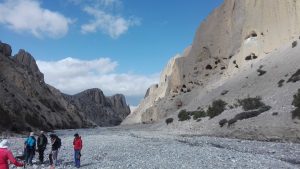 Elevation of Yara 3607 meters and reaches Tangge at the height of 3240 meters above sea level. After crossing Dhechyang Khola valley, trail continues towards Tangge exploring eye catching views of Himalayas. You can find Shaligram "Ammonoid fossils "black colored on the river bank area while walking. Restricted area trek in upper mustang area gives full satisfaction and can be one of the great adventures in the life time.
Trekking is an adventure activity that has always attracted the attention of adventurous souls. The rugged mountains, pristine rivers, and the breathtaking landscapes create an environment that is perfect for an outdoor adventure. Nepal, known for its majestic Himalayas, is a popular destination for trekkers around the world.
Let's plan a custom trip now for you to travel culturally rich and naturally beautiful Nepal.
Yara to Tangge trek is located in the remote Upper Mustang region of Nepal. The village is known for its traditional architecture and the warm hospitality of the locals. Do you wish to embark on an ultimate journey of adventure in the lush Himalayas; then upper mustang trekking is the superb option. Yara to Tangge is a part of this trip in Nepal. We are here to help you to organize upper mustang trek to show you natural wonders in between Yara to Tangge trek distance.
Yara to Tangge trek is a journey through the unexplored landscapes of Nepal.  It offers a unique experience of exploring the offbeat paths of the country and experiencing the local culture and way of life. The trek is challenging, but the rewards are simply breathtaking. If you are looking for a trek that is off the beaten path, then the Yara to Tangge trek is definitely worth considering.
If you consider the need of further information on Yara to Tangge trek in upper mustang, please do feel easy to contact us. We would be feeling admired to assist you on the subject.
Upper Mustang Yara to Dye to Tange video
24/7: Get trip ideas from our travel specialist as per your desire & duration of holidays.