Where is Mustang Nepal located on the world map
Mustang, also known as the Kingdom of Lo. Mustang region located in northern center part of Nepal in the Himalayas. Mustang Nepal is situated behind the Annapurna and Dhaulagiri mountain ranges. It is one of the most remote and least populated areas of Himalayas.
Mustang is divided into two parts: Upper Mustang and Lower Mustang. Upper Mustang is located in the rain shadow of the Himalayas, which means that it receives very little rainfall throughout the year. This has resulted in a unique landscape of barren deserts, rocky canyons, and towering cliffs. The region is also known for its historic villages, monasteries, palaces, and ancient caves etc.
Lower Mustang, on the other hand, is located at a lower elevation and is more densely populated than Upper Mustang. The region is characterized by lush forests, fertile valleys, and traditional Nepalese villages. It is also home to famous pilgrimage site of Muktinath, which is revered by both Hindus and Buddhists.
"Where is Mustang" the Upper Mustang is distant and isolated part of Himalayas. It has ancient caves, hikes and royals known as the secret Kingdom of Lo. Upper mustang located in the northern central part of Nepal.
Let's plan a custom trip now for you to travel culturally rich and naturally beautiful Nepal.
Where is Mustang Nepal
Dhaulagiri and the edge of the Tibetan plateau. It helps all you to know about mustang Nepal location on the world map.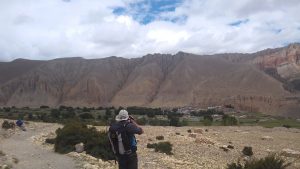 Traditional culture, high altitude desert, ancient caves, deep gorges and dramatic landscape are the major attraction of the last forbidden kingdom.
The independent Kingdom was founded in 1380 by Ame Pal. It was annexed by Nepal in 18th century. In 1950 the former Kingdom of Lo officially declared part of Nepal. One of the most preserved regions in the world the upper mustang open for limited tourist to visit since 1992. Special permit is essential to visit mustang Nepal.
Brief information about Upper Mustang
Lo Manthang is the capital of upper mustang Nepal. Arts, culture tradition and religion of this area are very similar to the Tibet. Most of the local speak Tibetan language territory also similar to Tibet. Main occupations of the inhabitant in this area are tourism, trading and animal husbandry.
Where is mustang situated?
Upper mustang Nepal situated in the middle of Himalayas along with the Kaligandaki River.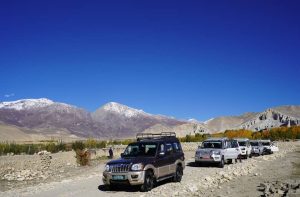 It runs in southward direction to Nepal and in between it bisects Mustang. Trekkers walk along the narrow cliffs, go up to cave, absorb the silence and interesting views of the blue sky and mountains. The river route was used for trading salt and was a major route of trade for Tibet and India.
 Kali Gandaki gorge is formed by the river valley parts in the south of Mustang Nepal. This gorge is also the deepest in the world. Upper mustang trek start from Kagbeni village 2810 meters and reaches to discover Lo Manthang situated an elevation of 3,840 meters / 12,600 feet above sea level.
Upper mustang to experience the Tibetan plateau in Nepal
Discover the typical Tibetan settlements, ancient man-made caves, Tibetan culture and nature splendor of Upper Mustang. It is a village surrounded by red hills on all sides despite having Himalayas just behind. It is a landscape which seems no less than a dream.
This area is not crowed because of the expenditure, small number of tourist visit each year. This is surely a onetime experience that you must get once in your lifetime. Upper mustang Nepal has maintained its uniqueness it brings you close to the Tibetan culture of traditional times.
Mustang Nepal was once an independent kingdom, with its own language, culture, and customs. However, it was annexed by Nepal in the late 18th century, and since then, it has become a popular destination for trekking and tourism. The region is known for its stunning natural beauty, rich cultural heritage, and unique Tibetan-influenced architecture. I think you are clear on location of upper mustang Nepal on the world map. We organize group joining and private upper mustang trek to show you the dreamland write us to get the quote.
Where is Mustang Nepal located in the world map
24/7: Get trip ideas from our travel specialist as per your desire & duration of holidays.