Ritseling Cave in Upper Mustang
Ritseling Cave in Upper Mustang is another mystery of the ancient kingdom. The secret caves in Himalayas explored only few years ago. Another interesting thing is that found; nobody had entered the cave for hundreds of years. Ritseling Cave located very close western side to Konchok Ling Cave. The isolation of Mustang facilitated the preservation of its ancient culture.
Ritseling Cave is a Buddhist site located in the Mustang district of Nepal. It is one of the ancient and historical caves decorated with intricate paintings, sculptures, inscriptions, deities and Buddhist religious figures. interior of the cave is divided into several chambers, each with its own unique artwork and design.
Close to the entrance of this cave there is a large Mandala along with many Buddha figures. The assortment of eroded murals on the walls of cave makes this cave mysterious. Murals of various deities are found here including a large image of nine faced and eighteen armed Garuda.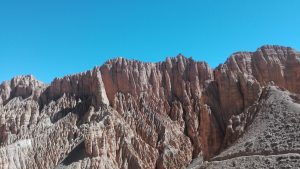 Many of the Murals on the walls of this cave are eroded. One of the Murals towards the back of this cave depicts the scenes pertaining to a person who was an occupant of the cave and also his trips to Lhasa and other parts of Tibet.
The Ritseling Cave and various other man-made caves in Upper Mustang hold great archaeological mysteries. There is no information regarding the creators of these caves. It is a mystery how people accessed these caves after scaling the vertical rocks. Some of the caves are perched more than 150 feet above the valley, really unbelievable.
Ritseling Cave of Mustang considered a sacred site by the locals and Buddhist pilgrims from all over the world. The cave offers a serene and peaceful environment that allows visitors to meditate and reflect on their spiritual journey.
Let's plan a custom trip now for you to travel culturally rich and naturally beautiful Nepal.
Ritseling Cave in Upper Mustang is just one among the 10,000 or more manmade caves in the Mustang area of Nepal. Most of the caves in Upper Mustang are unoccupied. After reading this article you may find interesting to visit this Cave in Upper Mustang to see the ancient painting inside the cave in mustang. Most of the caves of mustang are empty now, many among them show the signs of human presence in the past. People might have been living in this place before Buddhism was introduced in Mustang.
Ancient Ritseling Caves in Nepal
According to archaeologists, about 3000 years ago these caves were used as burial chambers. About 1000 years ago the caves were used as living places when people wanted to escape from enemies as well as intruders. Later, when the people settled in nearby villages some of the caves were converted into monasteries.
Mustang Caves are a network of artificial caves carved into the cliffs of Kali Gandaki river valley in Mustang district of Nepal. it not only significant for historical and archaeological value, but also culturally significant of cave civilization in Mustang. Ritseling Cave is a significant cultural and religious site that showcases the rich history and tradition in the Himalayan region.
If you interested to know about the Mystery of the ancient kingdom discovered in Nepal write us. We are upper mustang tour operator, promise to show you Ritseling Cave and upper mustang trek area with the support of professional guide in competitive price.
24/7: Get trip ideas from our travel specialist as per your desire & duration of holidays.