Trip Fact
Destination
Kanchenjunga, Nepal
Group Size
Min 2 to Max 10 Persons
Max altitude
KBC 5143 meters
Best time
March, April, May & Sept, Oct, Nov
Accommodation
Tea houses / Camping
Meals
3 Meals a day (BLD)
Transportation
Flight, Drive & Hiking
Start from
Kathmandu to Bhadrapur
End at
Taplejung to Kathmandu
Kanchenjunga base camp trek overview
Mount Kanchenjunga base camp trek Nepal is basically destined to explore the both base camp of Mt. Kanchenjunga, the third mightiest mountain in the world. After a long and enchanting walk, you will finally reach & explore the north and south base camp in Pang Pema 5140 meters at Kanchenjunga glacier & Ramche 4360 meters in Yalung glacier. You will be amazingly pleased if you have immense love for adventure and crazy travel stuffs.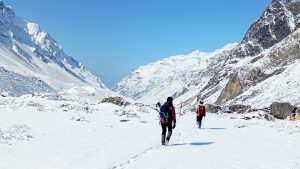 The Kanchenjunga Base Camp Trek Nepal is a challenging trip that takes you to the base camp of the third-highest mountain of the world. Mt. Kanchenjunga located in Taplejung district eastern part of Nepal. It involves long and steep ascents and descents, high altitude, and unpredictable weather conditions. However, with proper planning and preparation, anyone with a good level of fitness can embark on this hike. The final ascent to the base camp is a challenging one, but the stunning views of Kanchenjunga make it all worthwhile.
Is Kanchenjunga base camp trek right for you?
It is an off-the-beaten-path journey takes you through remote villages, dense forests, alpine meadows, stunning landscapes, waterfalls and high mountain passes. Kanchenjunga trek offer unique experience compared to other popular treks in Nepal. Kanchenjunga region is the home of various ethnic groups, like Limbu, Rai, and Sherpa people. Travelers get an opportunity to interact local to know their unique cultures, traditions and way of life.
The best time to undertake the Kanchenjunga Base Camp Trek is from September to November and from March to May, as the weather conditions are generally favorable during these months.
Mount Kanchenjunga trek Nepal usually kicks off either from Taplejung or Basantapur with the prospect of elevating to the height of Kanchenjunga base camp Nepal. During the journey you will be unfolding fascinating culture of local people, eye-popping Himalayan landscapes, verity of flora and fauna, towering mountains and wandering along virgin nature on earth.
Kanchenjunga is a truly gifted mountain that sorely stands as a temptation to all the adventure enthusiasts with profuse respect and admiration for mountains. Kanchenjunga Conservation Area is home to a diverse range of flora and fauna, including rare species like the snow leopard and red panda.
Being utterly demanding trail, you need to be physically strong. Prior alpine hiking experience will simplify the job. Come savor the ultimate feel of excitement and adventure in one of the remote and less trafficked regions of Nepal with practiced guides in Himalayas.
You can have a look at the section below for details on Kanchenjunga base camp Nepal itinerary, route information, teahouse facility and the services included. However, we would be pleased to customize a separate guided Kanchenjunga base camp trek package as per your requirements write us. We are here heartily open to answer your queries.
Our experience guide help in each step on rarely visited trail to scale the mount Kanchenjunga base camp altitude. It is advisable to keep Kanchenjunga base camp trek map during journey and select expert design itinerary for stress free journey. Kanchenjunga trek takes travelers to the both base camp of third highest peak, north Pangpema & south Yalung glacier. Adventure exploration in remote area of Himalayas "trek to kanchenjunga base camp" makes your journey really joy full.
Kanchenjunga base camp trek highlights
Reach the base camp of Mt. Kanchenjunga 8,586 m / 28,169 feet, the third highest peak of the world.
Encounter verity of flora, fauna and birds on natural habitat in Kanchenjunga conservation area.
Explore Deurali, Temples, Monasteries, Mani walls, Prayer flags and Chortens on the way to KBC trek route.
Visit Kanchenjunga north base camp at 5,140 m & south base camp at 4,610m crossing Sele la, Mirgin la, Sinelapche pass.
Witness the unspoiled nature, waterfall, amazing landscapes, lush forests, rivers, vibrant hamlets and terraced farmlands.
Interact with local ethnic groups of people like Rai, Limbu and Sherpa, know their culture, tradition & way of life.
Get the glimpse of rural Nepal, Kanchenjunga glacier, Yalung glacier, glacial lakes and Tibetan refugee camp in Taplejung.
Feel the peace and tranquility during Kanchenjunga base camp journey on off the beaten path in eastern Nepal.
Witness wonderful view of Kanchenjunga massif, Yalung Kang, Kangbachen, Mount Kumbhakarna, Mabru and many other peaks of Himalayas.