Tsarang to Lo Manthang trek information
Day 6 of Upper mustang trek starts after breakfast at Tsarang (Charang). Tsarang to Lo Manthang trek distance is 11 kilometers / 6.8 miles. Most of the walking trail to Lo Manthang is flat; wide and gradually up, in this way it takes 4 to 5 hours to cross by foot. Tsarang to Lo Manthang distance offers the perfect blend of remoteness, adventure, natural beauty, and cultural lushness.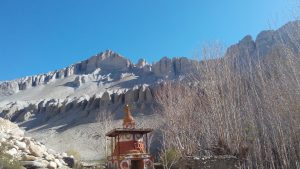 Lo La 3960 meters is the highest point of Charang to Lo Manthang trek. You can see the first glimpse of Lo Manthang, an amazing walled capital of Lo from this windy pass. Lo la pass offers great views of walled city the capital of Mustang. Historic city was founded by Ame Pal in 1380.
Lo Manthang is the highlights as well as the final destination of mustang trek and tours. From the pass descent to reach Lo Manthang, it is dusty but short. When you enter the city and interact with ancient Tibetan culture and people you feel it's one of the unique lifetime experiences.
Let's plan a custom trip now for you to travel culturally rich and naturally beautiful Nepal.
The trail takes you through a barren landscape with red cliffs, canyons, and a stark terrain that is unique to Mustang. These villages are known for their traditional mud-brick houses, narrow alleys, and colorful prayer flags fluttering in the wind.
Tsarang to Lo Manthang part of Upper mustang trek Nepal stands out one of the fascinating and endearing hiking stuffs in Himalayas, Nepal. Walking trail to go to Lo Manthang from Tsarang is easier than other part and offers eye catching views of Himalayan range including two above 8000 meters peaks Mount Dhaulagiri and Annapurna.
Travelers approach the Lo Manthang the capital of former Kingdom of Lo at the elevation of 3840 meters via Sungda Chhorten, Lo day La. Lo Manthang is the destination of your aspiration to achieve once in a life time. When you reach take a bit of rest and start to explore all attractions inside walled city of Mustang Nepal. Chhoser is another place to see located very close to this city. Go to visit Chhoser on upper mustang day tours to explore highlights of this area like monasteries and sky caves Nepal.
Trek from Tsarang to Lo Manthang with our expert and amicable trekking guides to make safe and successful trip. Tsarang to Lo Manthang trek is a great way to explore the Mustang region and experience its unique culture and traditions. The trek is best undertaken during the spring, autumn and monsoon seasons when the weather is clear and mild. The trek is moderate level and can be complete within12 to 14 days, depending on your pace and fitness level. So, if you are looking for a unique and offbeat trekking experience in Nepal, then the Tsarang to Lo Manthang trek should definitely be on your bucket list.
We have designed the itinerary to upper mustang trek with proper consideration for easy and delightful trekking. However, it can be altered as per your travel needs and time frame. For any further information and trek booking please feel free to mail us.
Walled City Lo Manthang the Capital of Upper Mustang

24/7: Get trip ideas from our travel specialist as per your desire & duration of holidays.