Dhakmar to Ghiling trek info
Day 9 of Upper mustang trek starts after breakfast at Dhakmar. Dhakmar to Ghiling trek distance is 14.3 kilometers / 8.8 miles via Chhunggar & Tamagaon. Dhakmar to Ghiling walking trail is up and down takes 5 to 6 hours to achieve via Jhaite, Chhunggar & Tamagaon villages. The elevation of Ghiling village is 3570 meters above sea level.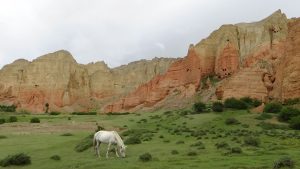 Dhakmar to Ghiling trek is an interesting as well as exciting because trek leads the visitors to the hidden Buddhist Kingdom of Upper Mustang Nepal. As soon as living you reach longest Mani wall of Mustang and ancient Chortens.
On the way you cross Ghami Khola and reach the amazing Ghami village surrounding y the high cliff and caves. Trail continues towards Ghiling passing Ghami la 3765 m and Ny la 4020 meters above sea level. When you reach Ghiling village you can explore village, monastery, sky caves and buckwheat field.
Let's plan a custom trip now for you to travel culturally rich and naturally beautiful Nepal.
Dhakmar to Ghiling trek is a wonderful experience for anyone looking to explore the beauty of Mustang region in Himalayas. The trek offers stunning views of the Himalayas, ancient caves, monasteries, and unique culture of Upper mustang. Trail pass through remote village and untouched areas by modernity to provide an opportunity to witness the stunning vistas.
Mustang is in the northern part of Nepal situated beyond the Annapurna and Dhaulagiri range of Himalayas. The spectacular mountain views and the walled city in Upper Mustang are the greatest attractions of this part.
Check details itinerary of Upper mustang trek Nepal before booking the trip. At first immigration office Nepal issue the permit for 10 days, after that travelers have to pay additional fee US$ 50 each day. It is better to consult destination expert to organize trip in short time frame covering all highlights of upper Mustang Nepal.
Dhakmar to Ghiling trek is a great way to explore the Mustang region and experience the local culture and traditions. The trek offers stunning views of the Himalayas, ancient monasteries, and caves, and a unique insight into the lives of the people of Mustang. It is an adventure that will leave you with unforgettable memories of the natural beauty and culture of Nepal.
We can tailor a different upper mustang route loop with changes in services that best serve your travel requirements. Please feel free to contact us in case of any upper mustang trek queries. We will feel delighted to respond to your queries.
24/7: Get trip ideas from our travel specialist as per your desire & duration of holidays.