Lower Mustang Yoga trek Nepal overview
Himalayan yoga trek Nepal provides you the great spiritual sense of blessing by god nature. Nepal yoga trek begins from Nayapul and pass through Ghorepani and Poon hill Nepal. Lower Mustang yoga trek follow the footsteps of legendary salt traders along Kali Gandaki to reach the place of salvation "Mukti Kshetra". After taking a bath in 108 water spouts and 2 Holy pond (Kunda) in Muktinath temple that purify your mind, soul and wash away your sin. Himalayan yoga trek refills the energy in your body with retreat yoga and trek in Nepal at the same time.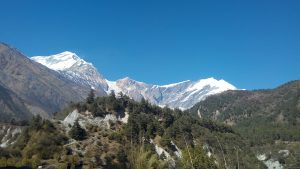 Yoga and meditation guide helps you to practice yoga asana, meditation, and breathing techniques or pranayama in support of increasing fertility, reducing stress and nourishing the body every day. Our yoga instructor instructs you different yoga techniques in natural open air places on the lap of the Himalayas. Yoga trekking program suitable for all levels and ages hikers. It Provides unique opportunity to strengthening the body and mind. It is a scientific system of physical and mental exercise that originated manly in Hinduism, Buddhism.
Main purpose of organizing lower mustang Yoga trek in Nepal is to help each one of us achieve our highest potential and to experience enduring health and happiness. Our yoga instructor instructs you main five techniques in yoga trekking period like (1) Asanas, or body postures, (2) Pranayama, or breathing exercises, (3) Cleansing practices, (4) Music and sound therapy and (5) Deep relaxation. Yoga trip is an opportunity to explore mountain sights with physical exercise. Yoga trek in Nepal is a unique way to refine body and get extra energy for body.
Lower Mustang Himalayan Yoga Trek Nepal is the modified form of classic mustang trek. It is easy, short, beautiful and budget yoga trekking route for family and small group. During yoga trek in Nepal you will get the grand sights of Mount Annapurna 8,091 m, Dhaulagiri 8,167 m and many other peaks closely.
Lower Mustang Yoga trek will take you across the deepest river gorge in the world as well. Final destination of Nepal yoga trek is Muktinath temple. Muktinath is the famous pilgrimage site for Buddhists and Hindus. Himalayan Yoga trek is a teahouse trek in Nepal. Experience the spiritual feeling during yoga trekking in Himalayas and holy Muktinath.
Lower Mustang Yoga trek Nepal itinerary
Day 01: Drive from Kathmandu to Pokhara
Day 02: Drive to Nayapul, trek to Ulleri 1960m / 6430 feet
Day 03: Trek to Ghorepani 2860m / 9383 feet
Day 04: Hiking Pooh hill 3210m then trek to Shikha 2380m / 7808feet
Day 05: Trek to Tatopani 1190 m/ 3904 feet
Day 06: Trek to Kalopani 2530 m/ 8300 feet
Day 07: Trek to Marpha 2670 m/ 8760 feet
Day 08: Trek to Kagbeni via Dhumba Lake 2,804 m/ 9199 feet
Day 09: Trek to Muktinath 3,800 m/ 12467 feet
Day 10: Trek to Jomsom via Lupra 2,743 m/ 8999 feet
Day 11: Flight / Drive from Jomsom to Pokhara
Services included on Nepal yoga trek Himalayas
# Airports pick up on your arrival day by private vehicle
# Round trip drive / flight from Kathmandu to Pokhara
# Pokhara to Nayapul by private vehicle (trek start point)
# All meals (Breakfast, Lunch & Dinner) 3 cups of hot drink each day on choice
# Best accommodation at tea houses during trekking period
# Professional yoga teacher during lower mustang trek
# Every day yoga and meditation course each Morning and evening
# English speaking guide service trained by government of Nepal
# Experience trekking staffs (2 guest =1 porters basic) to carry your backpack
# All necessary paperwork, trekking permits (ACAP, TIMS) and local taxes
# Jomsom to Pokhara by drive / flight on choice / situation
#Hotel accommodation in Pokhara for 2 nights before and after trek
# Travel and rescue arrangements if require
Service excludes on yoga trek in Nepal cost
* Visa fees / international airfare to and from Kathmandu
* Hotel, Lunch and dinner in Kathmandu
* Personal expenses phone calls, mineral water, bar bills, hot shower, battery recharge, extra porters & gears etc
* Tips for guides, porters (Tipping are expected but not mandatory)
Lower Mustang Yoga Trek is a Journey for Inner Peace and Serenity. Mustang is known for its stunning landscapes, ancient monasteries, and diverse culture. It is also one of the best destinations for yoga trekking in Nepal. The Mustang Yoga Trek route combines with beauty of sacred land of Himalayas, and spiritual practice of yoga.
The trek is suitable for all levels of yoga practitioners, from beginners to advanced. The yoga sessions are conducted by experienced and certified yoga teachers who will guide you through different postures, breathing techniques, and meditation. The yoga sessions are designed to help you relax, de-stress, and connect with your inner self. The Mustang Yoga Trek is a perfect blend of adventure, culture, and spirituality.
Mustang yoga trekking is one of the popular trekking trail of Nepal Himalayas. Highlights of this trek are yoga in Poon hill, deepest gorge, Kagbeni, semi-arid desert and holy Mukti Kshetra the 'place of liberation'. It is an opportunity to discover nature, grand hospitality of local as well as the ethnic people & culture of Himalayas.