Trip Fact
Destination
Mustang, Nepal
Difficulty
Easy to fairly moderate
Group Size
Min 2 to Max 10 Persons
Max altitude
Muktinath 3,800 m/ 12467 feet
Activities
Yoga, Trekking & Sightseeing
Accommodation
Tea houses / Lodges / Hotels
Meals
3 Meals a day (BLD)
Transportation
Flight, Drive & Hiking
Start from
Kathmandu - Pokhara - Nayapul
End at
Jomsom - Pokhara - Kathmandu
Lower Mustang Yoga trek overview
Himalayan yoga trek Nepal provides you the great spiritual sense of blessing by god nature. Nepal yoga trek begins from Nayapul and pass through Ghorepani and Poon hill Nepal. Lower Mustang yoga trek follow the footsteps of legendary salt traders along Kali Gandaki to reach the place of salvation "Mukti Kshetra". After taking a bath in 108 water spouts and 2 Holy pond (Kunda) in Muktinath temple that purify your mind, soul and wash away your sin. Himalayan yoga trek refills the energy in your body with retreat yoga and trek in Nepal at the same time.
Is Lower Mustang Yoga trek for you?
Yoga and meditation guide helps you to practice yoga asana, meditation, and breathing techniques or pranayama in support of increasing fertility, reducing stress and nourishing the body every day.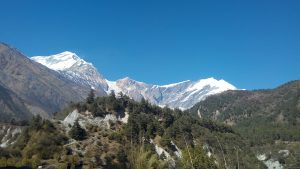 Our yoga instructor instructs you different yoga techniques in natural open air places on the lap of the Himalayas. Yoga trekking program suitable for all levels and ages hikers. It Provides unique opportunity to strengthening the body and mind. It is a scientific system of physical and mental exercise that originated manly in Hinduism, Buddhism.
Main purpose of organizing lower mustang Yoga trek in Nepal is to help each one of us achieve our highest potential and to experience enduring health and happiness. Our yoga instructor instructs you main five techniques in yoga trekking period like (1) Asanas, or body postures, (2) Pranayama, or breathing exercises, (3) Cleansing practices, (4) Music and sound therapy and (5) Deep relaxation. Yoga trip is an opportunity to explore mountain sights with physical exercise. Yoga trek in Nepal is a unique way to refine body and get extra energy for body.
Lower Mustang Himalayan Yoga Trek Nepal is the modified form of classic mustang trek. It is easy, short, beautiful and budget yoga trekking route for family and small group. During yoga trek in Nepal you will get the grand sights of Mount Annapurna 8,091 m, Dhaulagiri 8,167 m and many other peaks closely.
Lower Mustang Yoga trek will take you across the deepest river gorge in the world as well. Final destination of Nepal yoga trek is Muktinath temple. Muktinath is the famous pilgrimage site for Buddhists and Hindus. Himalayan Yoga trek is a teahouse trek in Nepal. Experience the spiritual feeling during yoga trekking in Himalayas and holy Muktinath.
Mustang yoga trekking is one of the popular trekking trail of Nepal Himalayas. Highlights of this trek are yoga in Poon hill, deepest gorge, Kagbeni, semi-arid desert and holy Mukti Kshetra the 'place of liberation'. It is an opportunity to discover nature, grand hospitality of local as well as the ethnic people & culture of Himalayas.
Lower Mustang Yoga trek highlights
Mustang yoga trek offers a rewarding adventure that combines physical challenge, spiritual practice and cultural immersion.
Mustang has a rich cultural heritage, with many ancient monasteries, Chortens, and Mani walls dotting the landscape.
Discover scenic natural beauty, with towering peaks, deep gorges, arid landscapes the perfect setting for yoga practice.
Yoga practice in the Himalayas the serene mountains, lakes, and valleys will help to find inner peace & calmness.
Yoga trek takes to the natural hot springs at Tatopani, where you relax your muscles and soothe your mind.
Yoga in Muktinath, a sacred pilgrimage located in mustang district of Nepal, is known for its spiritual and cultural significance.
Yoga trekking takes you through several traditional villages that allow you to experience local culture, cuisine and lifestyle.
Mustang Nepal yoga trek is a perfect blend of adventure, culture and spirituality that will leave some unforgettable memories.