Trip Fact
Destination
Annapurna, Nepal
Group Size
Min 2 to Max 10 Persons
Max altitude
Poon hill Nepal 3210m
Activities
Yoga Trekking & Sightseeing
Accommodation
Tea houses / Lodges / Hotels
Meals
3 Meals a day (BLD)
Transportation
Flight, Drive & Hiking
Start from
Pokhara to Nayapul
Ghorepani poon hill yoga trek overview
Ghorepani Poon Hill Yoga Trek is a journey that promises to rejuvenate your body, mind, and soul. This trek is a perfect blend of adventure, nature, and spirituality. Yoga trek begins with scenic drive to Nayapul from Pokhara and trek through lush forests, quaint villages, and terraced farmlands to reach Ghorepani and Poon hill Nepal.
Yoga is an ancient practice that originated in Nepal. It has been widely accepted worldwide for its health benefits. Practicing yoga in the midst of the serene natural beauty of the Himalayas is an experience like no other. The tranquility of the surroundings combined with the physical and mental benefits of yoga make for a perfect blend of adventure and relaxation.
Poon Hill is a vantage point that offers a breathtaking sunrise view of the Annapurna and Dhaulagiri mountain ranges. This is also where you will experience the essence of the Ghorepani Poon Hill Yoga Trek – a tranquil yoga session amidst the majestic mountains.
Ghorepani Poon Hill Yoga Trek is suitable for all levels of yoga practitioners, from beginners to experts. The yoga sessions are conducted by experienced instructors who will guide you through various postures and breathing techniques. The classes are designed to promote mindfulness, enhance flexibility, and alleviate stress.
Special Ghorepani Poon hill yoga trek is an exciting outdoor excursion in Annapurna sanctuary in Himalayas. Where yoga teacher instru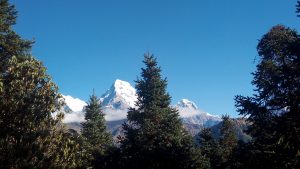 ct to practice yoga in front of Mount Annapurna and Dhaulagiri. Close up view of these peaks, eighth and tenth highest in the world spellbound you. Doing Yoga at morning gives an experience that will last lifetime. If you add yoga practice on famous Poon hill trekking, you can enjoy nature, culture and yoga and meditation in Himalayas.
The trek route starts from Pokhara and ends at the same location. The final destination for this trek is Poon hill but the actual trekking starts from Nayapul. During the first phase the trekkers will pass through Tikhe dhunga, Ulleri village. The steep stone steps that one has to cross during this period is strenuous but gives an everlasting memory. The ups and downs are part of the trek as during the trekking the highest spot touched will be 3210 meters / 10531 feet.
We organize Ghorepani Poon hill yoga trek year round. Sunrise over Dhaulagiri, Annapurna range in Himalayas, yoga and terraced hills will make every moment successful and outstanding. If you interested to participate on it contact us, we are happy to make you happier.
Ghorepani poon hill yoga trek highlights
Practice yoga and meditation in Himalayan foot hills for inner peace and wellness.
Explore scenic view of Annapurna i - iv, south, Dhaulagiri, Fishtail, Nilgiri and Manaslu ranges.
Witness the spectacular sunrise and sunset over the mountains that leave you lasting impressions.
Get the physical mental and spiritual benefits of yoga trekking in poon hill Nepal.
Yoga trek through mountains, forests, and valleys provides a wonderful opportunity to connect with nature.
Get involve in daily yoga sessions at most scenic locations to deepen your practice in Himalayas.
Promote personal growth and self-discovery during yoga journey that lasting impact on your life.
Practice yoga in great outdoors, a wonderful way to deepen your practice and connect with surroundings.