Ghorepani poon hill yoga trek Nepal overview
Ghorepani Poon Hill Yoga Trek is a journey that promises to rejuvenate your body, mind, and soul. This trek is a perfect blend of adventure, nature, and spirituality. Yoga trek begins with scenic drive to Nayapul from Pokhara and trek through lush forests, quaint villages, and terraced farmlands to reach Ghorepani and Poon hill Nepal.
Poon Hill is a vantage point that offers a breathtaking sunrise view of the Annapurna and Dhaulagiri mountain ranges. This is also where you will experience the essence of the Ghorepani Poon Hill Yoga Trek – a tranquil yoga session amidst the majestic mountains.
Ghorepani Poon Hill Yoga Trek is suitable for all levels of yoga practitioners, from beginners to experts. The yoga sessions are conducted by experienced instructors who will guide you through various postures and breathing techniques. The classes are designed to promote mindfulness, enhance flexibility, and alleviate stress.
Special Ghorepani Poon hill yoga trek is an exciting outdoor excursion in Annapurna sanctuary in Himalayas. Where yoga teacher instruct to practice yoga in front of Mount Annapurna and Dhaulagiri. Close up view of these peaks, eighth and tenth highest in the world spellbound you. Doing Yoga at morning gives an experience that will last lifetime. If you add yoga practice on famous Poon hill trekking, you can enjoy nature, culture and yoga and meditation in Himalayas.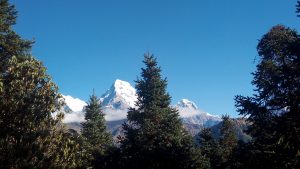 The trek route starts from Pokhara and ends at the same location. The final destination for this trek is Poon hill but the actual trekking starts from Nayapul. During the first phase the trekkers will pass through Tikhe dhunga, Ulleri village. The steep stone steps that one has to cross during this period is strenuous but gives an everlasting memory. The ups and downs are part of the trek as during the trekking the highest spot touched will be 3210 meters / 10531 feet.
Ghorepani Poon Hill trek is most popular route to discover Annapurna foothills. Natural and cultural multiplicity, daily Yoga class helps to make your soul and body feel rejuvenated. In short it can be said that the poon hill yoga trek is the best trek for those who are short on time. It takes about 5 to 7 days to complete poonhill trekking in Nepal. The trekkers will pass by unique settlement where they can taste the local cuisine and learn about the culture of this majestic land. The best season to enjoy the easy level, Ghorepani poon hill yoga trek is during March to May and from September to December.
Ghorepani Poon hill yoga trek itinerary
Day 01: Drive / flight from Kathmandu to Pokhara 820 m
Day 02: Drive to Nayapul 1070 m, trek to Ulleri via Tikhedunga, Birethanti, Hile
Day 03: Trek to Ghorepani 2860 m via, Banthanti & Nangethanti
Day 04: Hike to Poon Hill 3210 m, trek to Tadapani 2630 m
Day 05: Trek to Nayapul via Ghandruk 1940 m then drive to Pokhara
Day 06: Drive / flight back to Kathmandu
Services included on Poon hill yoga trek package
# Airports pick up and drop by private vehicle.
# Transportation KTM – Pokhara – Kathmandu by drive / flight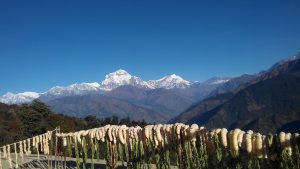 # Hotel in Pokhara for two nights
# Transportation Pokhara to Nayapul trek start point
# All meals (Breakfast, Lunch & dinner) 3 cups of hot drink each day on choice
# Daily yoga practice with the support of yoga teacher
# Best accommodation in tea houses during Poonhill trekking period
# Professional guide service trained by government of Nepal
# Experience trekking staffs (2 guest = 1 porter basic) to carry your backpack
# Private transportation from Nayapul to Pokhara after trek
# All necessary paperwork, trekking permits (ACAP, TIMS) and local taxes
# Travel and rescue arrangements if require
What not included in Poon hill yoga trekking package
* Visa fees / international airfare to and from Kathmandu
* Hotel in Kathmandu arrangements as per your requirements.
* Personal expenses phone calls, mineral water, bar bills, hot shower, battery recharge, extra porters & gears etc
* Tips for guides, porters (Tipping are expected but not mandatory)
Yoga is an ancient practice that originated in Nepal. It has been widely accepted worldwide for its health benefits. Practicing yoga in the midst of the serene natural beauty of the Himalayas is an experience like no other. The tranquility of the surroundings combined with the physical and mental benefits of yoga make for a perfect blend of adventure and relaxation.
Ghorepani Poon Hill Yoga Trek is a perfect escape from the hustle and bustle of everyday life. It is an opportunity to disconnect from technology and immerse yourself in nature, to recharge your mind and body, and to find inner peace and serenity. if you are looking for a unique adventure that combines the physical and mental benefits of yoga with the beauty of the Himalayas, the Ghorepani Poon Hill Yoga Trek is the perfect choice for you. It is a journey that will leave you refreshed, rejuvenated, and at peace with yourself.
We organize Ghorepani Poon hill yoga trek year round. Sunrise over Dhaulagiri, Annapurna range in Himalayas, yoga and terraced hills will make every moment successful and outstanding. If you interested to participate on it contact us, we are happy to make you happier.
Ghorepani Poon hill trek video