Trip Fact
Destination
Mustang, Nepal
Difficulty
Moderate to fairly challenging
Group Size
Min 2 to Max 10 Persons
Max altitude
Chhoser 3897 meters / 12785 feet
Best time
March to November
Activities
Trekking & Sightseeing
Accommodation
Tea houses / Lodges / Hotels
Meals
3 Meals a day (BLD)
Transportation
Flight, Drive & Hiking
Start from
Kathmandu - Pokhara - Jomsom
End at
Jomsom - Pokhara - Kathmandu
Upper mustang trekking overview
Tourists who take up the Upper Mustang trekking get the opportunity to visit the hidden kingdom of Mustang which is also known as Lo. The geography, culture and language of Mustang are very similar to Tibet. Mustang is in the rain shadow region surrounded by rock formations in different colors as well as shapes. In Mustang one can view settlements of whitewashed houses, Chortens with prayer flags and fields of barley.
Is classic Upper Mustang trekking for you?
Upper Mustang trekking trail follows the salt caravan route of ancient times via Yara, Ghara, Luri Gompa, Tangge to Chhusang. The final destination of trekking to Upper Mustang is the capital of Mustang known as Lo Manthang. The 6m tall whitewashed wall of the walled capital can be seen from a distance. The visitors enter Lo Manthang through the town gate to explore royal palace, monasteries and villagers.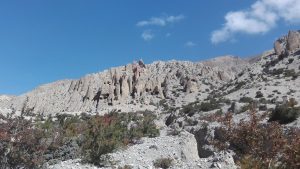 Upper Mustang was once an independent kingdom that remained closed to the outside world until 1992. This isolation helped to preserve its culture, traditions, and lifestyle. As a result, Upper Mustang has become a popular destination for trekkers who want to experience the unique culture and traditions of Mustang. Upper Mustang is a cultural and geographical marvel, and its unique landscape and ancient Buddhist monasteries have been drawing trekkers from all over the world for decades.
Visitors hire Tibetan ponies for a ride to Chhoser where there is a monastery and an ancient cave dwelling in the high rocks. Upper mustang trekking via Yara, Ghara, Luri Gompa, Tangge is a great experience during the period June to August. Trekking to Upper Mustang starts and ends in Kagbeni, trail follows the Kali Gandaki valley.
When you reach Upper mustang area and Lo Manthang you realize that Mustang is entirely different from the rest of the world. People of this place still follow its unique ancient culture. Mustang region looks like a desert; on the back drop of Mustang one can view the majestic mountains. Upper mustang trekking route connect both side of kaligandaki valley of mustang Nepal.
We organize tea house and camping basic Upper mustang trekking via Yara, Ghara, Luri Gompa, Tangge to Chhusang route. From Tangge they trek to Paha, Tetang and then to Muktinath.
Upper mustang trekking via Yara, Ghara, Luri Gompa US$:
With the company of our professional and amiable guides, you can end up with a truly rewarding and memorable journey of lifetime in Mustang. Please feel easy to write us for any information on the Upper mustang trekking. We will be more the delighted to assist you.
Upper mustang trekking highlights
Travel around amazing landscapes with ancient monastery, caves, archeological sites and nomad lands.
Explore walled capital of the kingdom of lo, founded by Ame Pal in 1380.
Hiking through striking semi-arid desert with colorful rock formations, deep gorges, and gorgeous scenery.
Off the beaten path trek offers stunning views of Himalayas including Annapurna, Dhaulagiri range as well as the Kali Gandaki valley.
Explore the traditional villages of mustang, including Samdzong, Chhonhup, Yara, Ghara, Ghiling and Ghami.
Explore the mystic mustang to feel the silence and tranquility of Himalayas.
Hiking to upper mustang along the ancient salt caravan route that once linked Tibet and India for trading,
An opportunity to witness the ancient trade practices and traditions of mustang Nepal.