Chele to Syangboche trek distance via Samar, Bhena la
Day 3 of Upper mustang trek starts after breakfast at Tsaile (Chele). Chele to Syangbochen trek distance is 11.5 kilometers / 7.1 miles. It takes 6 to 7 hrs to complete because most of the trail is uphill walk. The elevation of Syangbochen village is 3800 meters above sea level. Trek pass throw Taklam la 3624 m, Dejong la 3660 m, Bhena la 3830 and Yamda la 4010 meters above sea level.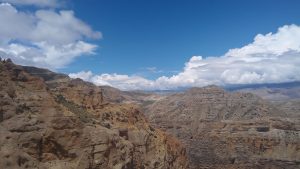 Ascend through the Chele to Syangboche trek is considered as a very tough task because the height difference between Chele and Syangboche is 800m. Spectacular mountain views, beautiful landscape, villages of Ghyakar and Samar and Chungsi cave are the major attractions of this trek. After road construction in traditional salt trading route Chele to Syangbochen trail ascend through beautiful Ghyakar village of Mustang.
From there we reach the view point of this area then finally reach Samar village. From the summer village we have two alternative options to reach Syangboche either through vena la or Chungsi cave. Among this two option better to walk through ranching chungsi cave, it offers really unique views and fresh trekking trail. This trek is perfect for those who seek a challenging and off-the-beaten-path adventure in the Himalayas. walk via chungsi caves makes the trail less crowded and more peaceful, allowing trekkers to enjoy the serenity of the Himalayan wilderness.
Let's plan a custom trip now for you to travel culturally rich and naturally beautiful Nepal.
After summer village there are two alternative routes to go to Syangboche; one via Bhena and Yamda la another via Ranchung cave monastery. After complete the upper mustang trek you back same way then you can follow any trail. If you are going throw another side then it is highly recommended to go via Chungsi cave to discover holy caves of Mustang.
The clean and enchanting landscape makes the Chele to Syangbochen area preferred destination of tourists from all parts of the world. To cross the Chele to Syangbochen distance, trek lead by professional and cheerful guides for safe and proper conduct.
Chele to Syangboche trek is a unique and adventurous trekking experience, with stunning mountain views, high passes, and rich cultural heritage. Trekkers who undertake this trek will not only challenge themselves physically but also gain a deeper understanding of the Himalayan way of life. However, trekkers should be prepared for the cold temperatures at higher altitudes and carry appropriate gear and clothing. If you feel any necessary changes to upper mustang itinerary and for any queries please do not hesitate to contact us.
Samar village in the forbidden Kingdom of Himalayas

24/7: Get trip ideas from our travel specialist as per your desire & duration of holidays.