Kali Gandaki valley trek and trails overview
Kali Gandaki valley trek essentially take you to the deepest gorge in the world. Andha Galchhi situated at Dana, Myagdi district in Nepal. Kaligandaki River made the deepest George in the world in between two highest mountains Annapurna 8,091 m and Dhaulagiri 8,167 m. Arial distance from one peak to another is only 30 kilometers. Deepest gorge of the world 5517 meters lower then Mount Annapurna and 5647 lower then Mount Dhaulagiri.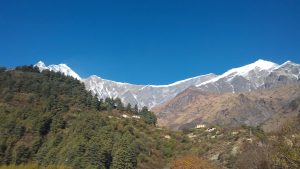 Explore beautiful scenery with the close up view of mountain, typical villages, lush-green forests, dry desert, deep gorge and altitude variation are main attraction of Kali Gandaki valley trekking package. It takes 11 days duration to complete. Highest elevation of this trek is 3,710 meters at "Muktinath".
Kali Gandaki valley trek is not only famous for its natural beauty but also for its cultural diversity. The trek offers a chance to experience the unique culture and lifestyle of the Gurung, Magar, and Thakali communities. Trek follows the Kali Gandaki River, which flows between two of the highest mountains in the world, Annapurna and Dhaulagiri.
Kali Gandaki valley trek is a part of traditional salt trading route to Tibet. Magar, Gurung and Thakali people are main inhabitant of Kali Gandaki corridor. The visitors get the opportunity to know about the cultural heritage and the traditions of the villages in the Annapurna trekking region.
Kali Gandaki valley trek is a part of Annapurna circuit trek. It is possible to combine this trip with Poon hill trek and upper mustang trek also. It is low altitude easy trek any one can go year round. Best time of the year for Kali Ganadki valley trek are from autumn and spring.
The feel of adventure gets augmented as the trail takes you through the Kali Gandaki gorge, beautiful landscapes, pristine villages and mesmerizing panorama of majestic Himalayan peaks. Kaligandaki valley trek start from Pokhara by drive crossing throw Kusma, Beni and Tatopani. After enjoying natural hot spring, actual trek start towards Mustang Nepal.  Kali Gandaki valley trek offers a wide range of landscapes, from dense forests to rocky trails, and from terraced fields to desert types high land of Himalayas.
Kali Gandaki valley trek itinerary
Day 01: Arrival day in Kathmandu, Nepal
Day 02: Drive or flight from Kathmandu to Pokhara
Day 03: Drive to Tatopani enjoy natural hot spring
Day 04: Trek to deepest gorge in the world then to Kalopani
Day 05: Trek to Marphga via Larjung and Tukuche village
Day 06: Trek to Kagbeni via Thini, visit Tiri village & monasteries
Day 07: Trek to Ranipauwa via Jharkot, visit Muktinath & monasteries
Day 08: Trek to Jomsom via Lupra village
Day 09: Flight or drive back to Pokhara
Day 10: Drive or flight back to Kathmandu
Day 11: Airport transfer to depart Nepal
Annapurna region Kali Gandaki valley trip cost US$:
Services included on Kaligandaki trekking package
# Airports pick up on your arrival day by private vehicle
# Round trip drive / flight from Kathmandu to Pokhara
# Pokhara to Tatopani by private vehicle (trek start point)
# All meals (Breakfast, Lunch & Dinner) 3 cups of hot drink each day on choice
# Best accommodation at tea houses during mustang trek period
# Professional English speaking guide service trained by government of Nepal
# Experience trekking staffs (2 guest =1 porter basic) to carry your backpack
#All necessary paperwork, trekking permits (ACAP, TIMS) and local taxes
# Jomsom to Pokhara by drive / flight on choice / situation
#Hotel accommodation in Pokhara for 2 nights before and after trek
# Travel and rescue arrangements if require
Service excludes on Kali Gandaki valley trekking
* Visa fees / international airfare to and from Kathmandu
* Hotel, Lunch and dinner in Kathmandu
* Personal expenses phone calls, mineral water, bar bills, hot shower, battery recharge, extra porters & gears etc
* Tips for guides, porters (Tipping are expected but not mandatory)
Kali Gandaki valley trek is an incredible adventure that offers a blend of natural beauty, cultural diversity, and physical challenge. It's a journey of a lifetime that will leave you with memories that will last a lifetime. So, if you're looking for an adventure that will take you out of your comfort zone and into the heart of the Himalayas, then the Annapurna Circuit Trek is definitely worth considering.
We organize trek to Kali Gandaki valley, let us guide you into the mystical land of Annapurna area. You will find yourself encircled with the wonders of nature and aroma of captivating culture of Thakali ethnic group.
Annapurna Circuit Trek in Nepal