Trip Fact
Destination
Everest, Nepal
Max altitude
Gokyo Ri 5360 m / 17585 feet
Best time
March, April, May & Sept, Oct, Nov
Activities
Trekking & Sightseeing
Accommodation
Tea houses / Lodges / Hotels
Meals
3 Meals a day (BLD)
Transportation
Flight, Drive & Walking
Start from
Kathmandu- Lukla
Gokyo lakes trek overview
It takes 10 to 14 days to complete Gokyo ri trek walk around Everest and Gokyo lakes trek from Kathmandu. Difficulty level associated with the trekking is moderate. Gokyo trek takes the trekkers in the best view point of Gokyo valley Nepal.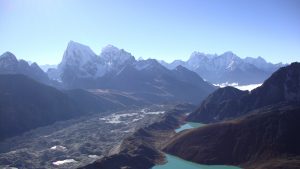 Incredible view of Mount Cho Oyu, Makalu, Everest, other surrounding peaks and the largest glacier of Nepal spellbound explorer during the journey.
The Gokyo ri trek is a popular and amazing route to go to discover Gokyo valley Nepal. Gokyo lakes lie high in the Sagarmatha National Park. It features incredible turquoise glacial lakes in a set enveloped by tallest peaks. Trekking route pass through exciting scenic ridges, forests filled, river, bridges, with shrines on top, the alpine valleys, charming little hamlets and glacial moraines.
The Gokyo valley is an attractive trekking place in the Khumbu area. Most trekking takes place in March to May and September to December because these months are the best time of year for Gokyo ri trek. During these time periods, the weather condition of the place likely to be comfortable, clear and warm during daytime.
Is Gokyo lakes trek right for you?
Gokyo Lakes Trek is a challenging journey, but the rewards are worth it. The trek offers a unique combination of stunning scenery, cultural experiences, and physical challenges. The trail passes through some of the most beautiful landscapes on the planet and provides a glimpse into the lives of the Sherpa people.
How hard is Gokyo Trek?
Uphill walking distance from Gokyo lakes to gokyo ri is 570 meters / 1870 feet. It is the most difficult part of whole Gokyo lakes trek or Gokyo ri trek. It is worth the hike and it is incredibly beautiful. Trekking to Gokyo valley is quite expensive, it can cost from $1075 up to 1750 depend on the quality of service. The maximum elevation of this trek should be Gokyo ri 5357 meters / 17575 feet above sea level. If you interested to visit naturally beautiful valley of Everest trekking region fell free to write us to get the Gokyo Ri trek trip quote. Make Gokyo valley trek a lifetime experience to remember.
Gokyo lakes trek highlights
Discover crystal-clear Gokyo lakes, alpine meadows & surrounding mountains around Gokyo valley Nepal.
Hiking Gokyo Ri to enjoy panoramic views of Everest, Lhotse, Cho Oyu, Makalu, other mountains, glaciers and lakes.
Feel the pristine ambiance in off-the-beaten-path of Everest to reach turquoise Gokyo lakes a Ramsar site (wetlands).
Experience the Sherpa culture, history, hospitality and learn about Hindus & Buddhist way of life in Khumbu.
Discover the sloppy moraines of Ngozumpa glacier the largest glacier of Nepal.
Explore verity of flora & fauna, birds, biodiversity and wilderness in Sagarmatha national park.
Travel around Sherpa villages, cross suspension bridges, prayer wheels, colorful flags, Mani stones etc.
Gokyo ri trek is a fantastic experience that combines natural beauty, adventure, and cultural immersion.
Gokyo lakes trek cost & dates
Upper Mustang trek & tours organize verity of trip in Himalayas. Departure dates are 100% guaranteed until and unless there is no political unrest, natural disasters or epidemics in the destination. Start dates are your arrival date in Kathmandu and end dates are the returning date from Nepal. Listed departure dates & price quoted on group joining basic. if given dates are not suits you, or travelling with friend let us to know to book private trip as per your requirements.
Dates and Availability
(Prices may go up, so secure your trip Now!)
Guaranteed
Available
Limited
Sold Out
Start Date
Price
Booking
Fixed departure dates not available for this month, Please request for Private Trip
Start Date
Price
Booking
Fixed departure dates not available for this month, Please request for Private Trip
Start Date
Price
Booking
Fixed departure dates not available for this month, Please request for Private Trip
Start Date
Price
Booking
Fixed departure dates not available for this month, Please request for Private Trip
Start Date
Price
Booking
Fixed departure dates not available for this month, Please request for Private Trip
Start Date
Price
Booking
Fixed departure dates not available for this month, Please request for Private Trip
Start Date
Price
Booking
Fixed departure dates not available for this month, Please request for Private Trip
Start Date
Price
Booking
Fixed departure dates not available for this month, Please request for Private Trip
Start Date
Price
Booking
Fixed departure dates not available for this month, Please request for Private Trip
Start Date
Price
Booking
Fixed departure dates not available for this month, Please request for Private Trip
Start Date
Price
Booking
Fixed departure dates not available for this month, Please request for Private Trip
Start Date
Price
Booking
Fixed departure dates not available for this month, Please request for Private Trip