Trip Fact
Destination
Annapurna, Nepal
Difficulty
Moderate to fairly challenging
Group Size
Min 2 to Max 10 Persons
Max altitude
Kang La 5320m
Best time
March to November
Activities
Trekking & Sightseeing
Accommodation
Tea houses / Lodges / Hotels
Meals
3 Meals a day (BLD)
Transportation
Drive & Trekking
Start from
Kathmandu to Syange
End at
Jomsom - Pokhara - Kathmandu
Nar Phu valley trek overview
Nar Phu valley trek is one of the most admired trekking packages to the Annapurna region opened only from 2003 to the tourists. This remote cum exotic valley resides peacefully to the north of Manang district. The Nar Phu valley encompasses unparalleled natural beauty and century old Tibetan culture in its unmolested state. Compactly populated by ethnically Tibetan (Bhote) people, the valley offers idyllic representation of Tibetan Buddhist religion which is worth unfolding.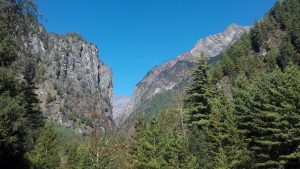 Nar Phu valley trek essentially follows the same trail of Annapurna circuit trek till Koto from where we branch off heading to our destination. Again crossing the Kang la pass it joins with Annapurna circuit or same way back. Special permit needed to go for trekking in sacred Nar and Phu village. Nar Phu valley trek permit fee US$ 90 for Sept to November and US$ 75 for December to August per person per week.
Highlights of the Nar Phu Valley trek is the unique cultural experience. The Nar and Phu villages have a distinct Tibetan-influenced culture and lifestyle, which is quite different from the rest of Nepal. The locals are mostly farmers and yak herders who practice Buddhism and follow their own customs and traditions. You will have the opportunity to interact with them, learn about their way of life, and witness their colorful festivals and rituals.
Nar Phu valley trek is abundantly loaded with splendor of majestic mountains, high passes, glaciers, canyons, lush forests, miraculous rock settings, serene villages and Buddhist monasteries. As we ascend up the trail the splendid panorama of mighty snow-giants of the region unfolds that include Annapurna I, II, III, IV, Gangapurna, Chulu East and many more.
Difficulty level of Nar Phu area trek is adventurous, trail pass throw Kang La pass elevation 5307 meters above sea level. Walking duration is 5 to 7 hrs a day. Best time of the year for Nar Phu valley trek is March to December without Kang la pass. If you would like to cross Kang la then go in-between July to September.
Being one of the committed and premium travel service providers, we will ensure a pleasing and rewarding Nar Phu valley trekking experience that will be memorable forever. Our experienced and charming guides will be supporting and guiding you all the way during the journey. The package and itinerary to Nar-Phu valley trail has designed with proper consideration for general requirements and easy conduct. However, we are open to changes required as per your request and convenience. For any information and booking, feel free to call or mail us.
Nar Phu valley trek highlights
Experience the raw and unhurt beauty of Himalayas by walking in off-the-beaten-path wild terrain of Manang.
Discover the unique culture, traditions and way of life of ethnic groups live in Nar and Phu valley Nepal.
Take a glimpse of Annapurna, Gangapurna, Tilicho peak, lamjung Himal, beautiful Marsyangdi river, glaciers, waterfalls & lakes.
Nar Phu valley trek is a unique combination of natural, cultural and topographical wonders in Himalayas.
Spot diverse wildlife, plants and birds of Nar Phu valley including blue sheep, snow leopards, Himalayan Tahr, deer and yaks.
Explore ancient monasteries, villages, Chortens, Mani wall, holy stones & flags in remote part of Nepal.
Experience the real Himalayan wilderness in mysterious valleys and feel spirituality, peace and tranquility.
Discover Himalayan rain shadow, unspoiled valleys, ancient Buddhist culture and gorgeous nature of Nar Phu valley Nepal.