Ghorepani poon hill tour package Nepal
Do you know how many days does it take for upper mustang trek?  This post makes you clear about upper mustang trek duration to explore the whole kali Gandaki valley.

Takes time for regular upper mustang trek is 14 days. Though, there are variations of the route like Upper mustang circuit, Damodar kunda trek, Nar Phu to upper mustang and upper dolpo to upper mustang trek takes longer days. Shortest trek to visit upper mustang area is 10 days. It is possible to complete Upper mustang tour within a week too by jeep.
It will take minimum 7 days to reach Lo Manthang from Jomsom Nepal and 4 days to return. This journey takes you to the mysterious hidden kingdom and its capital in the Himalayas. Ancient monasteries, untouched Tibetan culture and life, incredible geography stored in your memory forever. If you have time and energy better to do 17 days' sky caves discovery upper mustang trek provides an opportunity to explore everything.
Let's plan a custom trip now for you to travel culturally rich and naturally beautiful Nepal.
General information about upper mustang trek duration
Day 04: Jomsom to Kagbeni 3 to 4 hours
Day 05: Kagbeni to Chele 5 to 6 hours
Day 06: Chele to Syangboche 6 to 7 hours
Day 07: Syangboche to Ghami 5 to 6 hours
Day 08: Ghami to Tsarang 5 to 6 hours
Day 09: Charang to Lo Manthang 4 to 5 hours
Day 10: Lo Manthang & Chhoser 3 to 4 hours
Day 11: Lo Manthang to Dhakmar 6 to 7 hours
Day 12: Dhakmar to Ghiling 5 to 6 hours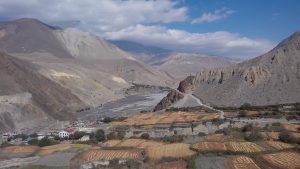 Day 13: Ghiling to Chhusang 5 to 6 hours
Day 14: Chhusang to Jomsom 6 to 7 hours
The standard duration for the Upper Mustang trek is around 14 days, which includes 10 days of trekking and 4 days for transportation, acclimatization, and sightseeing. The trek offers a scenic view of the Himalayas, including Dhaulagiri, Annapurna, and Nilgiri ranges. Upper Mustang trek is a moderate to challenging trek, and trekkers need to be physically fit and prepared for the high altitude environment.
Mustang trip begins with short mountain flight from Pokhara to Jomsom with panoramic views of Annapurna and Dhaulagiri range. From Jomsom village, you will trek to Kagbeni, and following Kali Gandaki corridor.
Upper Mustang, also known as the hidden kingdom of Nepal, is a unique and breathtakingly beautiful region that is home to some of the most awe-inspiring natural landscapes and cultural treasures in the world.
The trail mostly goes through beautiful landscape, small villages in Annapurna conservation area. I think this post useful for you to know how long does it take to do the upper mustang trekking from start to finish. If you have even more questions and confusion about it get in touch with us via email.
24/7: Get trip ideas from our travel specialist as per your desire & duration of holidays.