Trip Fact
Destination
Mustang, Nepal
Group Size
Min 2 to Max 10 Persons
Max altitude
Lo Manthang 3840 Meters
Best time
March to November
Activities
Biking tours in Mustang
Accommodation
Tea houses / Lodges / Hotels
Meals
3 Meals a day (BLD)
Transportation
Flight, Drive & Biking
Start from
Kathmandu - Pokhara - Jomsom
End at
Jomsom - Pokhara - Kathmandu
Mustang valley biking tour overview
Mustang valley biking tour in Nepal from Pokhara is to see beautiful nature of Kaligandaki valley to Lo Manthang. Intact with life & culture of true mountain people, those are not in touch with the rest world along mountain biking trail of upper mustang Nepal. Riders can take some of the best pictures as well as the lifetime riding experience during Mountain biking in Mustang Nepal trip. The rides upper mustang will be easy and pleasant, the air is not that thin while you are in the base of the mountain.
Is mustang valley biking tour for you?
Upper Mustang is a remote and rugged region that offers some of the best mountain biking trails in Nepal. The region is known for its arid landscape, dramatic canyons, and stunning views of the Himalayas. Mountain biking in Mustang is best done during the spring and autumn months, when the weather is mild and the trails are in good condition. It is important to come prepared with the proper gear, including a good quality mountain bike, helmet, and other protective gear.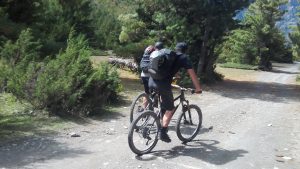 Mustang valley biking tour is an excursion in the remote trans-Himalayan region of controlled trekking area in Nepal. Reach close to the border of Tibet to savor the adventure delight of Mustang mtn bike tour in spring, autumn and monsoon seasons of the year. Enjoy the natural wonders as much as you can before back to Pokhara, capture breathless moments on camera to show your friend and family that you explored.
First you will have to reach Kathmandu then drive to Pokhara and flight to Jomsom. Mustang valley biking tours start from Jomsom (lower Mustang) and finally reach Lo Manthang and Korala border in Upper mustang. We organize customize Mustang valley biking tour package with the support of professional guide & staffs. You can visit lower mustang by mountain biking as well as upper mustang area as per your budget and holiday duration.
Upper Mustang begins from Kagbeni to discover major tourist attraction of mustang like antique villages, sky caves; rare medieval Buddhist arts, exotic culture and the unique landscape of the Himalayan desert surely have a great ride. Bike ride around mustang valley requires at least 2 people in a group to enter controlled trekking area to observe ancient culture and lifestyle similar to Tibet. If you would you like to explore or need further information on Mustang valley biking tour feel free to mail us. We are happy to make you clear and happier.
Mustang valley biking tour highlights
Biking in rain shadow area behind Annapurna and Dhaulagiri range of trans Himalayas.
Get the spiritual feeling while visiting many Gompas, temples, Chortens, prayer flags, and sky caves etc.
Ride through the world's deepest gorge: Kali Gandaki gorge in Dana Myagdi Nepal.
Witness everyday life and culture of local people who live closely like Tibetan.
Witness the breathtaking views of Annapurna, Nilgiri and Dhaulagiri mountains of Nepal.
Explore impressive Choser cave, Ghar Gompa, Luri Gumba, royal palaces, sky caves and ancient monasteries of Lo.
Cross high mountain passes by mountain biking in remote and rugged terrain of upper mustang Nepal.
Biking to sacred pilgrimage site of Muktinath, which is revered by both Hindus and Buddhists.
Witness the intricate thangka paintings in the monasteries, meet the lama to get blessings.
Mustang valley biking tour cost & dates
Upper Mustang trek & tours organize verity of trip in Himalayas. Departure dates are 100% guaranteed until and unless there is no political unrest, natural disasters or epidemics in the destination. Start dates are your arrival date in Kathmandu and end dates are the returning date from Nepal. Listed departure dates & price quoted on group joining basic. if given dates are not suits you, or travelling with friend let us to know to book private trip as per your requirements.
Dates and Availability
(Prices may go up, so secure your trip Now!)
Guaranteed
Available
Limited
Sold Out
Start Date
Price
Booking
Fixed departure dates not available for this month, Please request for Private Trip
Start Date
Price
Booking
Fixed departure dates not available for this month, Please request for Private Trip
Start Date
Price
Booking
Fixed departure dates not available for this month, Please request for Private Trip
Start Date
Price
Booking
Fixed departure dates not available for this month, Please request for Private Trip
Start Date
Price
Booking
Fixed departure dates not available for this month, Please request for Private Trip
Start Date
Price
Booking
Fixed departure dates not available for this month, Please request for Private Trip
Start Date
Price
Booking
Fixed departure dates not available for this month, Please request for Private Trip
Start Date
Price
Booking
Fixed departure dates not available for this month, Please request for Private Trip
Start Date
Price
Booking
Fixed departure dates not available for this month, Please request for Private Trip
Start Date
Price
Booking
Fixed departure dates not available for this month, Please request for Private Trip
Start Date
Price
Booking
Fixed departure dates not available for this month, Please request for Private Trip
Start Date
Price
Booking
Fixed departure dates not available for this month, Please request for Private Trip