Horse riding trip to upper mustang from Jomsom
Mustang area is famous for horse riding for a long time because of the isolation. Jomsom to Lo Manthang trek by horse riding is a journey full of beauty, fun and excitements. After arrival at Jomsom you will get the horse to ride for upper mustang trek. It is unique experience that travelers love to do. The Mustang region is home to some of the most unique and well-preserved Tibetan cultures in the world. horseback riding to Upper Mustang is one of the best way to experience rugged terrain, unique culture, stunning landscapes, and ancient monasteries.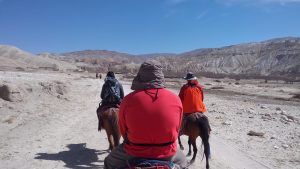 All horses that we arrange are tourist friendly they never throw you from back. Horseman led the trip to Kagbeni village for first day and continues to Lo Manthang. Trekking guide and porters follow the caravan from the beginning to end to support the travelers. From Kagbeni you will have lots of ups and downs to reach Lo Manthang and Chhoser the final destination of tours.
Horseback riding from Jomsom to Lo Manthang, crossing multiple landscapes, sky caves, meet local people and visiting shrines and monasteries is no less than a dream. Driving road was built in this area few years ago, before road construction folks of Mustang use the horse for different purpose. Now day's numbers of horses are decreasing rapidly but still possible to do Jomsom to Lo Manthang trek by horse riding.
Spectacular yellow and grey rolling hills, Archaeological mysteries of upper mustang definitely Jomsom to Lo Manthang horse riding trek to upper mustang will be exciting for you. Royal place of Lo Manthang, stunning landscape and monasteries are the main attraction for tourists to visit Mustang.
It is worth to do Jomsom to Lo Manthang trek by horse riding to enjoy the passes and beautiful valleys along with Kaligandaki River flowing by your side. People of Mustang are influenced by Tibetan culture, really welcoming, hospitable and kind.
Jomsom to Lo Manthang trek by horse itinerary
Day 01: Arrival day in Kathmandu, Nepal
Day 02: Kathmandu sightseeing and preparation
Day 03: Kathmandu to Pokhara by drive / flight
Day 04: Drive / flight to Jomsom then pony trek to Kagbeni 2800 meters / 9186 feet
Day 05: Horse riding to Chele 3100 meters /10170 feet
Day 06: Horse riding to Syangboche 3800 meters / 12467 feet
Day 07: Horse riding to Dhakmar 3820 meters / 12532 feet
Day 08: Horse riding to Lo Manthang 3840 meters / 12598 feet
Day 09: Travel around Lo Manthang and Chhoser 3897 meters / 12785 feet
Day 10: Pony trek to Charang 3560 meters / 11679 feet
Day 11: Horse riding to Ghiling 3570 meters / 11712 feet
Day 12: Pony ride to Chhusang 2980 meters / 9776 feet
Day 13: Pony trek to Kagbeni via Tangbe village
Day 14: Horse ride to Jomsom 2720 meters / 8923 feet
Day 15: Drive / flight to Pokhara
Day 16: Drive of flight to Kathmandu
Day 17: Airport transfer by private vehicle to depart Nepal
Jomsom to lo Manthang trek by horse riding trip cost US$:
Services included on Upper mustang horse riding trip
# Airports pick up on your arrival day by private vehicle
# Transportation Kathmandu – Pokhara by private vehicle / flight according to your preference
# Two nights hotel accommodation in Pokhara BB basic
# Round trip flight / drive from Pokhara to Jomsom to Pokhara
# Horse to ride from Jomsom to Lo Manthang to Jomsom
# All meals (Breakfast, Lunch & dinner) 4 cups of hot drink each day on choice
# Best accommodation at tea houses during Mustang trekking period
# Professional English speaking guide service trained by government of Nepal
# Experience staffs / extra horse to carry your backpack
#All necessary paperwork, Mustang permits (ACAP, TIMS) and local taxes
# Travel and rescue arrangements if require
Service Jomsom to lo Manthang trek package
* Visa fees / international airfare to and from Kathmandu
* Lunch and dinner in Kathmandu
* Personal expenses phone calls, mineral water, bar bills, hot shower, battery recharge, extra porters & gears etc
* Tips for guides, porters (Tipping are expected but not mandatory)
The horse riding trip to Upper Mustang is suitable for everyone but requires good level of fitness and stamina to discover high altitude. Horse riding trip to Upper Mustang is a unique and unforgettable experience that takes you through stunning landscapes and ancient cultures. If you're looking for an adventure that will take you off the beaten path, then this trip is definitely worth considering.
Mustang trek Nepal organizes Jomsom to Lo Manthang trek by horse riding from March to November. If you interested for horse riding trip to upper mustang write us to get the trip quote.