Trip Fact
Group Size
Min 2 to Max 10 Persons
Best time
April to November
Activities
Trekking & Sightseeing
Accommodation
Organize Camping
Meals
3 Meals a day (BLD)
Transportation
Flight, Drive & Hiking
Start from
Kathmandu - Nepalgunj - Juphal
End at
Jomsom - Pokhara - Kathmandu
Upper Dolpo to Upper Mustang trek overview
Upper Dolpo to Upper Mustang trek is high Himalayan nature and culture discovery trip. It is possible to start either from mustang side or from Dolpo "Karnali" Nepal. Major attractions of this trek are natural wonders of Himalayas, verity of wildlife and plants. Amazing places to see during trek are Shey Gompa, Phoksumdo Lake, Lo Manthang and outlook of remote Nepal.
Dolpo to upper mustang trek only trek in the world that grants you the experience of prehistoric Tibetan culture and tradition including Bon-Po religion. Traditional agricultural practices in Himalayas like groundwork for plantation, harvest, look for sheep; cattle in pasture and eco system make you spellbound. Experience the hidden religious and cultural treasures of Dolpo to Mustang are not easily forgotten.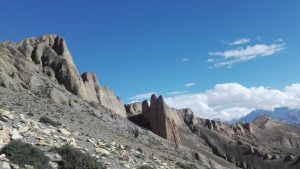 Walking journey starts from Juphal and continue towards mystical area like Phoksundo lake, shey gumba, Saldang, Dho tarap, Chharka bhot to upper mustang Nepal. Where you'll witness breathtaking mountain vistas, ancient monasteries, unique culture, architecture and traditions.
Upper dolpo to Mustang trail is takes you through wilderness area, traditional villages, rugged terrain, high passes and narrow gorges. That's why better to do this trip during spring and autumn seasons when the weather is mild and stable.
Travelers have to apply for permit with the support of reputed travel agency Nepal. Upper mustang trekking permit cost is US$ 500 and Upper Dolpa permit cost is US$ 500 per person for minimum 10 days duration. It is good trip for experience hikers but anyone physical fit can do this. We advise novice trekkers to practice physical exercise, daily walk, cardio exercise and yoga to make trek easier.
Is Upper Dolpo to Upper Mustang trek right for you?
Dolpo trek takes to the two remote areas lower and upper parts of dolpa and offers dramatic view of landscapes, valleys and wilderness. Best time of the year for Upper Dolpo to Upper Mustang trek is monsoon season but possible to visit from April to October. It is difficult to get the trekking map of this route. Our experience local guide led mustang to dolpa trip to show you wonderful natural scenery. Please, do mail us for any amendments to itinerary and information on this trek. We will be pleased to assist you with generous response.
Upper Dolpo to Upper Mustang trek highlights
Experience challenging journey in off the beaten path of upper Dolpo to upper mustang trek Nepal.
Discover flor fauna and villages like Chharka Bhot, Saldang, Shey Gumba, Dho Tarap and Rigmo village of Phoksundo national park.
Get spiritual feeling from century-old Gompas, Chortens, prayer flags, Mani wall, caves, rock murals and Tibetan-influenced culture.
Experience culture and lifestyle mustang 'Loba' and Dolpo pa people of the world's most culturally preserved region of Nepal.
Witness the arid desert-type landscapes of two remote areas with amazing mountain vistas and high cliffs made by erosion.
Know about lifestyle of bon Buddhists in Dolpo and Thakali people of mustang, its rich history, culture and rare wildlife.
Know about Tibetan Buddhism, bon religion and unique culture of Dolpo region of Himalayas.
Walking through the untouched route to upper Dolpo one of the highest inhabited places in the world.