Upper Dolpo to Upper Mustang trek adventures
Upper Dolpo to Upper Mustang trek is high Himalayan nature and culture discovery trip. It is possible to start either from mustang side or from Dolpo "Karnali" Nepal. Major attractions of this trek are natural wonders of Himalayas, verity of wildlife and plants. Amazing places to see during trek are Shey Gompa, Phoksumdo Lake, Lo Manthang and outlook of remote Nepal.
Dolpo to upper mustang trek only trek in the world that grants you the experience of prehistoric Tibetan culture and tradition including Bon-Po religion. Traditional agricultural practices in Himalayas like groundwork for plantation, harvest, look for sheep; cattle in pasture and eco system make you spellbound. Experience the hidden religious and cultural treasures of Dolpo to Mustang are not easily forgotten.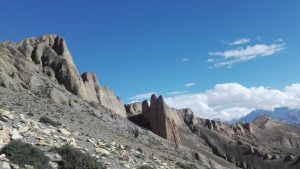 Upper Dolpo to upper mustang trek connects two sacred and isolated region; upper dolpo and upper mustang of Nepal. Both routes are control by the government of Nepal as a restricted area require special to discover this mysterious world. Individual trekking is not allowed in this area. Upper Dolpo to Upper Mustang trek is one of the most adventurous treks in Nepal.
Walking journey starts from Juphal and continue towards mystical area like Phoksundo lake, shey gumba, Saldang, Dho tarap, Chharka bhot to upper mustang Nepal. Where you'll witness breathtaking mountain vistas, ancient monasteries, unique culture, architecture and traditions.
Upper dolpo to Mustang trail is takes you through wilderness area, traditional villages, rugged terrain, high passes and narrow gorges. That's why better to do this trip during spring and autumn seasons when the weather is mild and stable.
Travelers have to apply for permit with the support of reputed travel agency Nepal. Upper mustang trekking permit cost is US$ 500 and Upper Dolpa permit cost is US$ 500 per person for minimum 10 days duration. It is good trip for experience hikers but anyone physical fit can do this. We advise novice trekkers to practice physical exercise, daily walk, cardio exercise and yoga to make trek easier.
Dolpo trek takes to the two remote areas lower and upper parts of dolpa and offers dramatic view of landscapes, valleys and wilderness. Best time of the year for Upper Dolpo to Upper Mustang trek is monsoon season but possible to visit from April to October. It is difficult to get the trekking map of this route.
Upper Dolpo to Upper Mustang trek itinerary
Day 01: Arrival day in Kathmandu, Nepal
Day 02: Kathmandu city tours and preparation
Day 03: Flight from Kathmandu to Nepalgunj
Day 04: Flight to Juphal then trek to Dunai 2140meters / 7020 feet
Day 05: Trek to Chhepka 2678 meters /8786 feet
Day 06: Trek to Rechi 3011 meters / 9878 feet
Day 07: Trek to Ringmo 3,641meters / 11945 feet
Day 08: Rest day to travel around Phoksundo Lake for acclimatization
Day 09: Trek to Phoksundo Khola 3750 meters / 12303 feet
Day 10: Trek to Phoksundo Bhanjyang 4500 meters / 14763 feet
Day 11: Trek to Shey Gompa 4343 meters / 14248 feet via Nagdalo La 5350m / 17552 feet
Day 12: Rest day to travel around Shey Gompa for acclimatization
Day 13: Trek to Namgung 4360 meters /14304 feet via Sela La 5094 meters / 16712 feet
Day 14: Trek to Saldang 3770 meters / 12368 feet
Day 15: Trek to Yangtsher Gompa 4559 / 14957 feet
Day 16: Trek to Shimengaon 3885 meters / 12746 feet
Day 17: Trek to Tinjegaon 4110meters / 13484 feet
Day 18: Trek to Taraka campsite 4210 meters / 13812 feet
Day 19: Trek to Kharka 4500 meters / 14763 feet
Day 20: Trek to Charkha Bhot 4302 meters / 14114 feet
Day 21: Trek to Charkha Khola camp 4380 meters / feet (trail separate for Ghami la from this place but Ghami la track open only Oct and Nov months takes 7 nights to reach Lo Manthang.
Day 22: Trek to Nulungsumde kharka 4987 meters / 16361 feet
Day 23: Trek to Jungben la base camp 5140 meters / 16863 feet
Day 24: Trek to Santa 3777 meters / 12391 feet
Day 25: Trek to Tirigaon 2815 meters / 9235 feet
Day 26: Trek to Chele 3100 meters / 10170 feet
Day 27: Trek to Ghiling 3570 meters / 11712 feet
Day 28: Trek to Tsarang 3560 meters / 11679 feet
Day 29: Trek to Lo Manthang 3840 meters / 12598 feet
Day 30: Explore Lo Manthang and Chhoser area
Day 31: Trek to Ghami 3510 meters / 11515 feet
Day 32: Trek to Syangboche 3800 meters / 12467 feet
Day 33: Trek to Chhusang 2980 meters / 9776 feet
Day 34: Trek to Jomsom 2720 meters / 8923 feet
Day 35: Flight / drive back to Pokhara
Day 36: Flight / drive to Kathmandu
Day 37: Airport transfer by private vehicle to depart Nepal
Upper Dolpo and Upper Mustang trekking in Nepal cost US$:
Services included
# Airports pick up on your arrival day by private vehicle
# Flight from Kathmandu to Nepalgunj to Jhupal
# One night hotel accommodation in Nepalgunj
# All meals (Breakfast, Lunch & dinner) 4 cups of hot drink each day on choice
# Accommodation at organize camping tent during trekking period
# Professional English speaking guide service trained by government of Nepal
# Trekking staffs to carry your backpack & camping equipments
#All necessary paperwork, special permits (SPNP, TIMS) and local taxes
# Travel and rescue arrangements if require
#Jomsom to Pokhara flight / drive according weather condition
#Drive / flight from Pokhara to Kathmandu
#Airport transfer to depart Nepal
Service exclude
* Visa fees / international airfare to and from Kathmandu
* Lunch and dinner in Kathmandu
* Personal expenses phone calls, mineral water, bar bills, hot shower, battery recharge, extra porters & gears etc
* Tips for guides, porters (Tipping are expected but not mandatory)
Upper Mustang and dolpo region is known for its dramatic landscape, similar to the Tibetan plateau. The both area preserved the ancient culture and traditions for centuries, in this way it is a hidden gem of the Himalayas. Upper Dolpo to Upper Mustang trek is an unforgettable adventure that offers a unique combination of natural beauty, cultural immersion, and physical challenge.
Our experience local guide led mustang to dolpa trip to show you wonderful natural scenery. Please, do mail us for any amendments to itinerary and information on this trek. We will be pleased to assist you with generous response.