Trip Fact
Group Size
Min 2 to Max 16 Persons
Max altitude
Nagdalo La 5350m / 17552 feet
Best time
April to November
Activities
Trekking & Sightseeing
Accommodation
Organize Camping
Meals
3 Meals a day (BLD)
Transportation
Flight, Drive & Hiking
Start from
Kathmandu - Nepalgunj - Juphal
End at
Jufal - Nepalgunj - Kathmandu
Upper Dolpo trek overview
Upper Dolpo trek is known for its rugged terrain, stunning landscapes, and unique culture. Most beautiful and remote landscapes discovery trek start in Juphal and follows the trail along the Suligad River, villages, passing through Phoksundo Lake in Shey Phoksundo National Park.  Walking trail follow beautiful valley, high passes, alpine forests Ancient Shey Gompa, and Saldang village, where you can experience the unique Nature, culture and traditions of Dolpa Nepal.
Situated to the western part of Nepal in the middle of Tibetan plateau and the Dhaulagiri massif, Upper Dolpo make up the upper section of Dolpo region and is immensely celebrated as a land beyond the Himalayas. The trail boasts most impressive and remote display of nature that is amusingly endearing.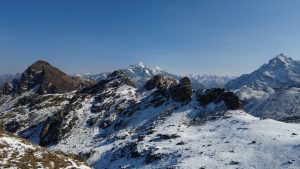 The sparsely vegetated appearance of the region is treasured with rain shadow landscapes, unscathed Trans-Himalayan ranges, serene forests, and eye-popping snow giants. The proximity of the region with Tibetan border has imprinted affluent cultural and religious influence on the people who largely follow Tibetan Buddhism "Bon Po".
The cultural demonstration of the people is genuinely fascinating and vibrant. The exclusive natural spread of Shey Phoksundo National Park has enriched the natural touch of this trek. You can also explore the variety of flora and fauna including rare wildlife of the region which essentially includes blue sheep, musk deer, mountain goat and leopards.
Upper dolpo trek to Shey Gompa begins with a flight from Kathmandu to Nepalgunj and again to Jhupal, continue walking throw lower Dolpo to upper Dolpo trek route. Best time of the year to visit Dolpo Nepal is the months of summer and monsoon season.
This region requires special permit to trek because it is controlled by the government. Upper Dolpo trek permit cost US $500 per person for first 10 days then after US$ 50 each day. Independent trekking is not allowed, in this way all require permits manage by local travel agency Nepal.
Is Upper Dolpo trek right for you?
The trail offers the mesmeric view of Shey Phksundo Lake, Shey Gompa and great Himalayan panorama of Kanjiroba and Dhaulagiri massif. During this trek, we will also be passing through the three high altitude passes of the region namely Kagmara La (5115 m), Baga La (5190 m), and Numa La (5159 m). Shey Gompa trek trail is a bit strenuous so you need to have a proper physical fitness and some prior trekking experience. 
Lets explore Isolated Upper Dolpo trek to visit Shey Gompa in Upper Dolpo Nepal. We organize Upper Dolpo trek in the best time of the year in camping basic with our professional and amiable trekking guides. However, we can arrange a separate one if the provided one doesn't allure you. For further information on Upper Dolpo trek map, please feel comfortable to mail us.
Upper Dolpo trek highlights
Discover the bon, Buddhist cultural, natural and geographical mysteries of lower to upper Dolpo Nepal.
Explore most significant monasteries like Shey Gompa, many others Buddhist and bon Gompas in inner Dolpo Nepal.
Catch a view of variety of wildlife, vegetation, birds including elusive snow leopard, blue sheep, musk deer & Himalayan Tahr etc.
Observe the nomadic life of Dolpo pa people, their culture, tradition and architecture preserved in Dolpo area of Himalayas.
Follow the footsteps of ancient trans-Himalayan traders, yaks, mules, horses and sheep's caravan to Tibet of China.
Visit medieval villages like Dunai, Ringmo, Saldang, Dho Tarap, Tarakot, Chharka Bhot, the highest human settlements in the world.
Witness the pristine Phoksundo lake, the deepest lake of Nepal in Shey Phoksundo national park.
Enjoy amazing mountain views, while hiking in rain shadow area of isolated Karnali region of Nepal.
Experience the practice of bon po religion, influences by Tibetan Buddhism by Dolpo pa in remote part of Nepal.
Get an insight into wilderness of mountains, lakes, waterfalls, ridges, barren desert, yak pastures etc.