Upper Dolpo trek overview
Upper Dolpo trek is known for its rugged terrain, stunning landscapes, and unique culture. Most beautiful and remote landscapes discovery trek start in Juphal and follows the trail along the Suligad River, villages, passing through Phoksundo Lake in Shey Phoksundo National Park.  Walking trail follow beautiful valley, high passes, alpine forests Ancient Shey Gompa, and Saldang village, where you can experience the unique Nature, culture and traditions of Dolpa Nepal.
Upper Dolpo trek stands out as one of the alluring trekking trails in Dolpo region Nepal. Trek offers the intact and unparalleled feel of genuine adventure stuff. Upper Dolpo has immerged out as an idyllic trekking destination to savor the remote and erotic walking experience in the vicinity of great Himalayan range.
Situated to the western part of Nepal in the middle of Tibetan plateau and the Dhaulagiri massif, Upper Dolpo make up the upper section of Dolpo region and is immensely celebrated as a land beyond the Himalayas. The trail boasts most impressive and remote display of nature that is amusingly endearing.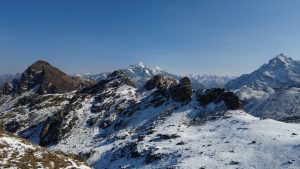 The sparsely vegetated appearance of the region is treasured with rain shadow landscapes, unscathed Trans-Himalayan ranges, serene forests, and eye-popping snow giants. The proximity of the region with Tibetan border has imprinted affluent cultural and religious influence on the people who largely follow Tibetan Buddhism "Bon Po".
The cultural demonstration of the people is genuinely fascinating and vibrant. The exclusive natural spread of Shey Phoksundo National Park has enriched the natural touch of this trek. You can also explore the variety of flora and fauna including rare wildlife of the region which essentially includes blue sheep, musk deer, mountain goat and leopards.
Upper dolpo trek to Shey Gompa begins with a flight from Kathmandu to Nepalgunj and again to Jhupal, continue walking throw lower Dolpo to upper Dolpo trek route. Best time of the year to visit Dolpo Nepal is the months of summer and monsoon season.
This region requires special permit to trek because it is controlled by the government. Upper Dolpo trek permit cost US $500 per person for first 10 days then after US$ 50 each day. Independent trekking is not allowed, in this way all require permits manage by local travel agency Nepal.
The trail offers the mesmeric view of Shey Phksundo Lake, Shey Gompa and great Himalayan panorama of Kanjiroba and Dhaulagiri massif. During this trek, we will also be passing through the three high altitude passes of the region namely Kagmara La (5115 m), Baga La (5190 m), and Numa La (5159 m). Shey Gompa trek trail is a bit strenuous so you need to have a proper physical fitness and some prior trekking experience.
Upper Dolpo trek to She Gompa itinerary
Day 01: Arrival day in Kathmandu, Nepal
Day 02: Kathmandu city tours and preparation
Day 03: Flight from Kathmandu to Nepalgunj
Day 04: Flight to Juphal then trek to Dunai 2140 meters / 7020 feet
Day 05: Trek to Chhepka 2678 meters /8786 feet
Day 06: Trek to Rechi 3011 meters / 9878 feet
Day 07: Trek to Ringmo 3,641meters / 11945 feet
Day 08: Rest day to travel around Phoksundo Lake for acclimatization
Day 09: Trek to Phoksundo Khola 3750 meters / 12303 feet
Day 10: Trek to Phoksundo Bhanjyang 4500 meters / 14763 feet
Day 11: Trek to Shey Gompa 4343 meters / 14248 feet via Nagdalo La 5350m / 17552 feet
Day 12: Rest day to travel around Shey Gompa for acclimatization
Day 13: Trek to Namgung 4360 meters /14304 feet via Sela La 5094 meters / 16712 feet
Day 14: Trek to Saldang 3770 meters / 12368 feet
Day 15: Trek to Yangtsher Gompa 4559 / 14957 feet
Day 16: Trek to Shimengaon 3885 meters / 12746 feet
Day 17: Trek to Tinjegaon 4110meters / 13484 feet
Day 18: Trek to Penjokhola Dovan 4480 meters / 14698 feet
Day 19: Trek to Tokyu Gaon 4240 meters / 13910 feet via Chhoila La 5,040 meters / 16535 feet
Day 20: Tokyu to Dho Tarap 3944 meters / 12939 feet
Day 21: Rest day to walk around Dho Tarap for discovery
Day 22: Trek to Ghyamgar 3755 meters / 12319 feet
Day 23: Trek to Lamachaur 3600 meters / 11811 feet
Day 24: Trek to Tarakot 2,540 meters / 8333 feet
Day 25: Trek to Dunai 2140 meters / 7,020 feet
Day 26: Trek to Jhuphal 2475 meters / 8120 feet
Day 27: Flight from Jhuphal to Nepalgunj to Kathmandu
Day 28: Airport transfer by private vehicle to depart Nepal
Lets explore Isolated Upper Dolpo trek to visit Shey Gompa in Upper Dolpo Nepal.
Amazing upper Dolpo trek cost US$:
Services included on upper Dolpo trekking trip
# Airports pick up on your arrival day by private vehicle
# Round trip flight from Kathmandu Nepalgunj
# Round trip flight from Nepalgunj to Jhupal to Nepalgunj
# Two nights hotel accommodation in Nepalgunj BB basic
# All meals (Breakfast, Lunch & dinner) 4 cups of hot drink each day on choice
# Accommodation at organize camping tent during Dolpo trekking period
# Professional English speaking guide service trained by government of Nepal
# Trekking staffs to carry your backpack & camping equipments
# All necessary paperwork, special permits (SPNP, TIMS) and local taxes
# Travel and rescue arrangements if require
# Airport transfer to depart Nepal
Service exclude on Upper Dolpo trek to She Gompa package
* Visa fees / international airfare to and from Kathmandu
* Lunch and dinner in Kathmandu
* Personal expenses phone calls, mineral water, bar bills, hot shower, battery recharge, extra porters & gears etc
* Tips for guides, porters (Tipping are expected but not mandatory)
Upper Dolpo trek is not easy and requires a lot of stamina and endurance.  Upper Dolpo jurney is a great way to experience the beauty and serenity of the Himalayas. The trek takes you through some of the most remote and untouched regions of Nepal. The trek is best suited for experienced trekkers who are looking for a challenging adventure. The trek is a great way to experience the natural beauty of Nepal and the unique culture of the Dolpo people. If you are looking for an adventure of a lifetime, then the Upper Dolpo trek is the perfect trek for you.
We organize Upper Dolpo trek in the best time of the year in camping basic with our professional and amiable trekking guides. However, we can arrange a separate one if the provided one doesn't allure you. For further information on Upper Dolpo trek map, please feel comfortable to mail us.