Kathmandu to muktinath tour and travels detail
Private Kathmandu to Muktinath tour provides the pilgrims an opportunity to explore the holy Muktinath temple. Kathmandu to Muktinath tour by 4WD jeep passes through Pokhara, Beni, Tatopani, Ghasa, Marpha, Jomsom and Kagibeni and finally arrives at Muktinath. Since there are frequent bumps on the road, the trip by road to Muktinath is slightly adventurous. During this trip the visitors can see several waterfalls, ethnic villages, diverse nature and Majestic peaks of Himalayas like Nilgiri, Annapurna and Dhaulagiri.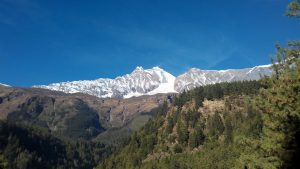 Muktinath is a sacred place for both Hindus and Buddhists and is believed to be the place where Lord Vishnu attained salvation. The temple complex at Muktinath consists of several shrines, including the Muktinath Temple, which is dedicated to Lord Vishnu. The temple complex also has 108 water spouts, which are believed to have healing properties. Pilgrims take a bath in these spouts to cleanse themselves of their sins and attain salvation.
Muktinath Temple is situated in Mustang district of Nepal. Hindus consider this temple as a symbol of liberation and call this place Mukti Kshetra while Buddhists call it Chumig Gyatsa which means hundred waterspouts. The Muktinath Yatra by Jeep is an ideal option for pilgrims from India as well as other countries. Hindu pilgrims from different parts of the world welcome the idea of Kathmandu to Muktinath tour private trip.
Muktinath Mandir is located on high mountain range, Annapurna circuit trek route and Hindus as well as Buddhists consider this temple as a sacred place. The tourists who opt for private Kathmandu to Muktinath tour we arrange comfortable vehicle as per the group size. From Kathmandu the jeep precedes to Pokhara, in Pokhara the pilgrims go for local sightseeing like Gupteshwar Mahadev, Tal Barahi Bindyavasini Temple etc.
From Pokhara the jeep proceeds to Muktinath via Tatopani, Marpha, Jomsom & Kagbeni. Finally jeep reach Muktinath, after Muktinath Darshan, jeep will return to same way back to Kathmandu. While driving back to Kathmandu you can visit Manakamana temple also. We organize Kathmandu to Muktinath tour by 4WD trip year round as per the guests' requirements.
Kathmandu to Muktinath tour itinerary
Day 01: Arrival day in Kathmandu, Nepal
Day 02: Drive to Pokhara by 4wd, evening walk around lake side
Day 03: Drive to Tatopani enjoy natural hot spring
Day 04: Drive to Kagbeni via Jomsom
Day 05: Drive to Muktinath overnight at Ranipauwa
Day 06: Morning Muktinath darshan then drive to Galeshwor
Day 07: Drive to Kathmandu via Pokhara
Day 08: Transfer to airport for departure
Muktinath tour by 4WD private trip cost US$:
Services included on Muktinath tour package
# Airports pick up on your arrival day by private vehicle
# Kathmandu to Pokhara overland by 4wd
# Two nights hotel accommodation in Pokhara BB basic
# Kathmandu to Muktinath to Kathmandu by 4wd transportation
# All meals (Breakfast, Lunch & dinner) 4 cups of hot drink each day on choice
# Best accommodation at tea houses during Mustang tours
# English speaking guide service trained by government of Nepal
#All necessary paperwork, permits (ACAP, TIMS) and local taxes
# Travel and rescue arrangements if require
Service exclude on KTM to Muktinath tour by 4WD
* Visa fees / international airfare to and from Kathmandu
* Lunch and dinner in Kathmandu
* Personal expenses phone calls, mineral water, bar bills, hot shower, battery recharge, extra porters & gears etc
* Tips for guides & drivers (Tipping are expected but not mandatory)
Kathmandu to Muktinath tour is a spiritual and cultural experience that takes you through some of the most scenic and rugged terrain in the Himalayas. The journey offers a glimpse into the rich cultural heritage of Nepal and is a must-visit destination for spiritual seekers or hindu and Buddhist pilgrims.
Our professional and cheerful guides are generously concerned about your safe and wonderful journey. We also operate customized Kathmandu to Muktinath Yatra packages. Please contact us in case of any queries and information required.