Manaslu circuit trek accommodation style
All you need to know about lodges / tea houses accommodation and dining during Manaslu trek in Nepal. Manaslu circuit trek takes travelers very close to Mount Manaslu 8,163 meters' peak, the eighth-highest mountain in the world and its base camp. Tea house facility available in Manasalu trekking route.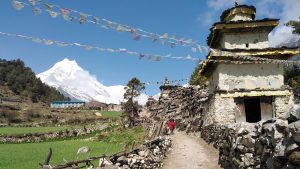 Tea houses of this trekking route provides basic accommodation facilities and verity of foods for travelers.
Teahouses / lodges accommodation in Manaslu trek
The beds are generally comfortable with foam pad, pillow and blanket, each room has twin bed. Some tea house provides private room with attach bathroom but most of the teahouse of high elevation provide private room with common bathroom.  Lodges or teahouse of Manaslu circuit route offers bed and breakfast like hotels in very reasonable price. It is highly recommended to bring your own sleeping bag to iensure that you stay warm enough at night.
Let's plan a custom trip now for you to travel culturally rich and naturally beautiful Nepal.
Camping style Manaslu circuit trek accommodation
Organize camping trekking facility also available in Manasalu conservation area but camping trip cost quite expensive. After teahouse construction in this area most of the visitors love to stay in local lodges because it is easy to stay and pay. Gurung community of Gurkha district built multi story structures as well as basic building. Each tea house has one large communal hall with a wood / cow dung burning stove at the center to warm up the dining room.
Where one can spend quality time, relax, meet other trekkers, share feelings, and sip tea or coffee in the evening. Some of the popular trekking route of Manaslu region listed below for reference, you can book these trip to explore the Mahaslu Nepal.
Most of the teahouses offers rooms and beds, dining hall and foods, toilets and hot shower, electricity charging points and Wi-Fi facilities in mountain area of Himalayas. When you book teahouse trek you don't need food, camping gear and many support staff like cook, guide, porter and Sherpa. Tea house make easy and light travel experience in Himalayas. This article may helps you to know about available Manaslu circuit trek accommodation style. If you interested to visit Manaslu circuit and Tsum valley area write us we are happy to organize camping or tea house basic trip to Manaslu to fulfill your desire.
Manaslu Circuit Trekking is a challenging yet highly rewarding trek that takes you to the heart of the Manaslu region in Nepal. The best time to trek the Manaslu Circuit Trek is from September to November and March to May, when the weather is clear and dry, and the views are spectacular. Along the way, you will encounter the unique culture of the region, with its blend of Tibetan and Nepalese influences.
24/7: Get trip ideas from our travel specialist as per your desire & duration of holidays.