Trip Fact
Destination
Langtang, Nepal
Difficulty
Easy to fairly moderate
Group Size
Min 2 to Max 10 Persons
Max altitude
Tatopani 2380m
Best time
Autumn and Spring season
Activities
Trekking & Sightseeing
Accommodation
Tea houses / Lodges / Hotels
Meals
3 Meals a day (BLD)
Transportation
Drive & Trekking
Start from
Kathmandu to Syabrubesi
End at
Syabrubesi to Kathmandu
Tamang heritage trek overview
Langtang Tamang Heritage trek stands as a perfect blend of trekking and opportunity to have a close and depth insight into the ancient Tamang culture and their lifestyle. Explore their arts, architecture, costumes and monasteries of the fascinating cultural group of Langtang, Rasuwa district, Nepal. The genuine warm welcome from the local people will further gratify you with amicable feeling.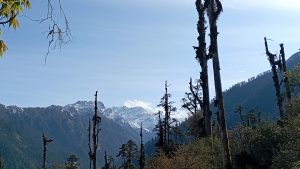 Tamang people are an indigenous group residing in the Langtang region of Nepal. They have a distinct cultural heritage, and their way of life is deeply rooted in their traditions and customs. The Tamang Heritage Trek takes you through several Tamang villages, where you can interact with the locals and learn about their way of life.
Besides treating you with the cultural intensity of Tamang people, this trek will also amaze your eyes with stunning views of majestic Himalayan peaks that essentially including Dorje Lakpa, Jugal Himal, Langtang Lirung, Ganesh Himal, Manaslu and Shringi Himal etc. Tamang Heritage trek present you wonderful opportunity to hook up with the rituals of Tamang people.
Is Tamang heritage trek suitable for you?
Heritage trail follows off-the-beaten track which sorely offers great scenic panorama of hilly landscapes and wild rocky formations that resembles much more to Tibetan highlands. Passing by the villages of Goljung, Gatlang, Thuman, Timure, and Briddim, you will be rewarded with unspoiled culture, festivals and ritual practices of Tamangs which you will find refreshing and worth experiencing. The alpine climate, green pastures, serene pine and rhododendron forests on the way with prospect of discovering vibrant and vivid Tamang culture altogether makes this endeavor perfect to approach.
It is possible to combine this trek with Langtang valley trek as well as gosaikunda trek also. Highest elevation of this trek is 2,380 m Tatopani". Total duration is 7 days to complete this trek with 5 to 6 hrs daily walk. Difficulty level of this trek categorized as an easy trek but possible to go year round. March to May and September to December months are the best time of the year for Tamang heritage trek.
Our immense knowledge about Tamang heritage and Langtang trek will surely help us in serving you with best possible way and information, please feel easy to contact us. We are heartily open to answer any queries regarding the matter.
Tamang heritage trek highlights
Walk through several Tamang villages and learn about Tamang people, their culture, traditions & way of life.
Discover diverse flora, fauna and birds, including endangered species in Langtang national park.
Visit natural hot springs spots and enjoy hot spring to relax and rejuvenate your tired muscles.
Witness Tamang festivals and cultural events, such as Lhosar and experience Buddhist traditions.
Hike along ancient trading routes to Tibet to discover pristine nature, vibrant culture influences by Tibetan.
Glimpse into the Tamang heritage trail the home to several ancient Buddhist monuments, religious and cultural history.
Immerse yourself with Tamang community, the largest ethnic groups in Nepal.
Stay at local lodges, teahouses or local homestay and enjoy off the beaten track in Nepal.