Trip Fact
Destination
Langtang, Nepal
Difficulty
Easy to fairly moderate
Group Size
Min 2 to Max 10 Persons
Max altitude
Tserko Ri 4984m
Best time
Autumn & Spring season
Activities
Trekking & Sightseeing
Accommodation
Tea houses / Lodges / Hotels
Meals
3 Meals a day (BLD)
Transportation
Drive & Trekking
Start from
Kathmandu to Syabrubesi
End at
Syabrubesi to Kathmandu
Langtang valley trek overview
Langtang valley trek stands out as a perfect way to explore the mystical and endearing natural opulence bejeweling the peaceful Langtang valley, famed as the valley of glaciers, residing in one of the most popular region of Nepal, Langtang region.
Langtang Valley is a remote and picturesque region Langtang national park of Rasuwa district Nepal. Langtang Valley Trek is a classic trekking route that takes you through lush forests, quaint villages, and dramatic landscapes that will leave you awestruck.
Is Langtang valley trek right for you?
Langtang is a serene valley situated on the lap of central Himalaya to the north of Kathmandu and bordered by Tibet from the north. Positioned as the part of Langtang National Park, this region boasts untouched and untainted natural wilderness in its original grace.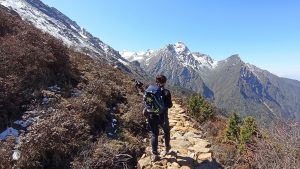 Housing some of the sacred lakes and majestic snow giants, the region is ethnically inhabited by Tamang and Sherpa people who are most often known for their honesty and hospitality. Besides, they will also treat you with their primitive cultural and traditional display.
Rasuwa, Langtang valley trek often gears at Syabrubesi passing through the rhododendron, pine and bamboo laden forests, verdant meadows, terraced farmlands, rocky and sloppy hills, high passes and spectacular sceneries that will essentially please your visual senses.
The Langtang Natinal Park on the way has much to offer you with its diverse floral and faunal spread which basically includes wild boar, Himalayan black bear, ghoral, grey langur, leopard, Himalayan thar, and musk deer. One of the major attractions of the region includes the sacred Buddhist monastery, Kyanjin gompa (3049 m).
As you ascend further up, the beautiful panorama of peaks of Langtang trek region unfolds to catch your eye sight. To name, these include Langtang Lirung, Gang Chhenpo, Naya Kanga, Yala, Ganesh Himal, Dorje Lakpa, Gaurishanker, Naya Kangri, Ponggen Dokpu, and possibly others. The remote and relatively unpopulated feature of this trek with immense thrilling factor will invigorate your feeling for the spirit of adventure.
Basically, Langtang valley trek route is a tea house trek. With the usual itinerary to Langtang trek provided below, we are also open to make any necessary amendments to it on your request. So, if you feel the need of modification and for any further information, please feel effortless to contact us. We will heartily try to respond to you queries.
Langtang valley trek highlights
Get a glimpse of Langtang valley, a great option for trekkers who want to experience the beauty of the Himalayas.
Experience the unique culture and lifestyle of ethnic groups residing in Langtang area of Nepal.
Hike to Kyanjin Ri or Tserko Ri to observe the impressive mountain views of the Himalayas.
Explore the different wildlife and vegetation of Langtang national park in Rasuwa district Nepal.
Enjoy mesmerizing views of valley and mountains like glaciers, Langtang Lirung, Dorje Lakpa, Langsisa, Ganjala peak, Ganesh himal and more.
Explore the ancient monasteries, Chortens, Mani stones and prayer flags in Rasuwa Nepal.
Insight into unique culture traditions and way of life of Tamang communities by visiting their villages.
Explore Tibetan-style lifestyle of Tamang people, Buddhist monastery & cheese factory in Langtang.