Dovan to Deurali trek overview
The natural spread and wildlife in Annapurna conservation area will laminate your journey with sheer joy. Dovan to Deurali trek distance is 7.7 kilometers / 4.7 miles. The elevation of Dovan village is 2600 meters above sea level. Dovan to Deurali distance is a part of ABC trekking route in Himalayas.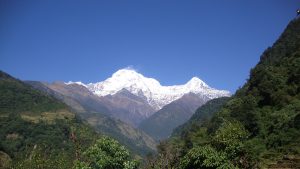 It takes 4 to 5 hours to arrive at Deurali from dobhan enjoying the rich biodiversity along Modi Khola & bamboo forest. After dovan trekkers heading towards the alpine area in this way forest become thin and thin, finally go over the tree line one can see bushes and barren land. The trek also offers stunning views of the Machhapuchhre, also known as the Fishtail mountain, which is one of the most beautiful peaks in the world. It is also an opportunity to experience the warm hospitality of the local people, who are known for their friendliness and generosity.
Let's plan a custom trip now for you to travel culturally rich and naturally beautiful Nepal.
Annapurna sanctuary trips
During this short and easy day walk you pass through Himalaya hotel 2920 m and Hinku Cave 3170m in Annapurna Nepal. From Deurali you can see the figure of sitting Buddha on high rocky cliff just opposite of Deurali Bhanjyang. Avalanche area close to the village looks pretty rocky, quite dramatic with the mountain, cloud, mist, rocky slopes, flowers and pristine waterfalls.
The trek can be done at any time of the year but best time is spring and autumn season offers dramatic mountain views & blue sky. If you would love to play with snow and want to experience with the chilled climate then you can trek during the winter too.
Dovan to Deurali trek is a must-do trek for anyone who loves nature, adventure, and breathtaking mountain views. It offers a unique opportunity to explore the stunning landscapes of the Annapurna region, experience the warm hospitality of the local people, and create unforgettable memories that will last a lifetime. So, pack your bags, put on your hiking boots, and get ready for an adventure of a lifetime!
You can visit to explore the beautiful sight of Annapurna sanctuary during Dovan to Deurali trek possible do with friend, family with kids as well as the senior. We organize Dovan to Deurali ABC trek throughout the year with the support and guidance of professional and cheerful guides. Please feel no hesitation in making any necessary inquiry on the matter. We are here heartily open to answer your queries.
24/7: Get trip ideas from our travel specialist as per your desire & duration of holidays.