Pokhara to Sarangkot distance day hiking info
There are many options available to visit Sarangkot. One is Pokhara to Sarangkot distance by drive and another is Pokhara to Sarangkot day hike. Both trips are famous to see the spectacular scenery, Annapurna range, sunrise, sunset & Pokhara city. Pokhara valley has majestic beauty; once you are there you will love the scenic splendor. To discover its nature beauty travelers from around the world visit Pokhara valley.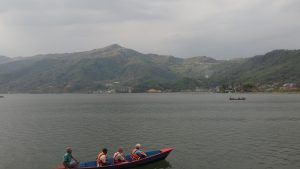 Sarangkot is a serene hill located at the outskirts of Pokhara.
Elevation of Sarangkot is 1592 meters. The best time to view the mountain ranges are either during dusk or dawn as at that time you can view the spectacular orange and pink hues that spreads over the mountain ranges. Different peaks that can be viewed from Sarangkot are Lmjung Himal, Annapurna II, IV, III, Annapurna south, Machhapuchhare, Dhaulagiri etc. Whether you decide to drive or hike to Sarangkot from Pokhara you will indeed love your destination.
Let's plan a custom trip now for you to travel culturally rich and naturally beautiful Nepal.
Annapurna sanctuary trips
Lake side Pokhara to Sarangkot distance is 11.3 km / 7 miles by drive. It will take maximum of 30 minutes to drive from the Lakeside Pokhara to Sarangkot hill Nepal. Most people stay there for night so that they can see the magnificent sunrise and sunset. Hiking or driving distance from Pokhara to Sarangkot pass through beautiful villages and the scenic view is magnificent which keep you attracted towards.
All the way from Lake side Pokhara to Sarangkot hiking duration is 3:30 hrs. We do provide you Pokhara to Sarangkot by drive and short day hiking trip to from Pokhara to Sarangkot hill as per your choice. Write us to reserve car, jeep, van or bus to Sarangkot or Pokhara to Sarangkot day hiking package. Enjoy your ride or hike with friends to get to the place that will make you fall in love with the place.
24/7: Get trip ideas from our travel specialist as per your desire & duration of holidays.