Chhusang to Jomsom trek information
Chhusang to Jomsom is the last stage of Upper Mustang trek Nepal. Chhusang to Jomsom trek distance 22 kilometers / 13.6 miles. It is also one of the long day walk of whole trip. Most of the trail is flat in this way not very difficult. It takes 6 to 7 hours to reach Jomsom. Jomsom village is the trading hub in Lower Mustang. it is situated at an elevation 2720 meters above sea level.
Chhusang to Jomsom trek is ideal for observing the diversity in the middle of the people and their customs. This area is a perfect place to find fossilized ammonites "Shaligram" which are found till Damodar Kunda Lake the upper reaches of Kaligandaki. Chhusang village is situated on the bank of the Kali Gandaki River and is surrounded by red sandstone cliffs.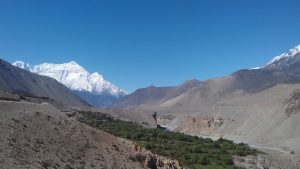 Trail continues along the Kaligandaki River via Tangbe, Kagbeni and Eklebhatti villages. Kali Gandaki crosses the Himalayas an in ancient times this river was a major trading route between India and Tibet. Blessed with hypnotizing natural magnificence and geographical inimitability, Kaligandaki valley is one of the best trekking spot in Mustang Nepal.
Let's plan a custom trip now for you to travel culturally rich and naturally beautiful Nepal.
Chhusang to Jomsom by foot is in fact the best sight-seeing trip in Annapurna region. This area is a part of many popular trails like Annapurna circuit trek, Jomsom Muktinath trek, Lower Mustang trek, Kali Gandaki valley trek, damodar kunda trek and the gateway to upper mustang trekking also.
Your upper mustang trip will complete with exciting flight from Jomsom to Pokhara. Alternatively you can drive back to Pokhara by jeep or bus via Marrpha, Tatopani, Beni and Kusma. If you are traveling by private vehicle stop for a while at Marpha and take a taste of apple pie at Marpha.
Chhusang to Jomsom trek is a fascinating journey that takes you through some of the most beautiful landscapes in the Mustang region. With its ancient villages, historic monuments, and stunning mountain views, this trek is a must-do for any adventurous traveler visiting Nepal.
Best time to trigger this endeavor is monsoon season but possible to go during the month of March to November. A usual itinerary to upper mustang trek has been detailed in given link. However, we are open to manage a separate one on your demand. For any necessary information on upper mustang trek please do not hesitate to contact us. We would be delighted in assisting you with genuine and generous information.
Travel Information about Jomsom Bazar Mustang Nepal

24/7: Get trip ideas from our travel specialist as per your desire & duration of holidays.