High altitude sickness during upper mustang trek safety tips
One of the most crucial things to keep in mind while trekking in the Upper Mustang is to acclimatize properly. As you climb higher altitudes, the oxygen level in the air decreases Your body needs time to adjust to the change. Acclimatization is the process of adapting to the high altitude environment, and it is essential to prevent altitude sickness. Take enough rest days, drink plenty of water, and avoid alcohol and smoking. If you experience any symptoms of altitude sickness, descend to a lower altitude immediately.
There is least chance of high altitude sickness during Upper Mustang trek. Highest point where you reach during upper mustang trek is Marang la 4230 meters above sea level. It is moderate trek in Nepal and safe to discover hidden kingdom. All Upper Mustang packages are design properly by the expert to prevent altitude sickness.
Let's plan a custom trip now for you to travel culturally rich and naturally beautiful Nepal.
Types of high altitude sickness
A: High altitude pulmonary edema (HAPE), this illness occurs when fluid builds up within the lungs, a condition that can make breathing extremely difficult.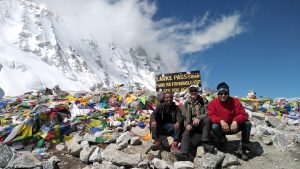 B: High altitude cerebral edema (HACE), this illness occurs when fluid builds up within the brain. That can make brain swells with fluid, the person's mental state changes.
The symptoms of AMS are headache, fatigue, dizziness, difficulty to sleep, nausea, loss of appetite, rapid pulse and short breath. To prevent from acute mountain sickness; hike slowly with acclimatization rest in between. Our professional guide led the trip with the logic of climb high & sleep low elevation essential to prevent AMS Naturally.
Following information is shared to help you protect yourself, feel healthy and enjoy the trek. Here you are clear about High altitude sickness during upper mustang trek and safety tips.
How to avoid high altitude sickness naturally
1: The best way to avoid sickness is by not thinking about the problem.
2: The lesser you bother and focus on other things the better it would be for you.
3: Avoid sudden steep and abrupt accents.
4: If you are sensitive then avoid ascending more than 500 meters in one day.
5: Allow your body time for acclimatization for a day or two in after an accent.
6: If you are already getting the symptoms of high altitude sickness then stop, rest, and avoid forced further accents.
7: Drinking lots of fluids helps the digestive system and helps a lot during sickness.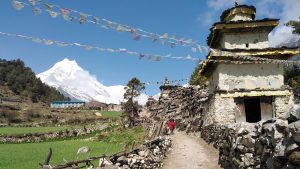 Symptoms of acute mountain sickness are seen above 3000 meters from sea level in Himalayas. This is common with many tourists, who are sensitive to accent to places where the oxygen level is low. But this should not be allowed to interfere with your fun of trekking at the Upper Mustang.
What is high altitude sickness?
When you get to higher altitudes, the oxygen concentration in air lowers with attitude. During the trek you may have to go through rapid accents. These are the times when the lowering oxygen level affects your body when normal breathing cannot bring enough oxygen to the body.
Can high altitude sickness be fatal?
Only in severe and rare cases this can be too serious to bring on any of the two fatal conditions called HAPE and HACE. To avoid such condition, you may get ready to fight high altitude sickness by using a drug called Diamox. The pill is available in all pharmacies in Nepal but better to take an advice with your personal doctor before leaving your country. Being prepared with a positive mentality to have fun during the trek avoiding rapid high accents, can avoid high altitude sickness during Upper Mustang trek.
Guide Upper Mustang Safety Tips Must-Know
Packing the right gear and equipment is crucial for a safe and comfortable trek. Make sure you pack warm clothes, rain gear, sturdy hiking boots, and a good quality sleeping bag. It is also essential to bring a first aid kit, sunscreen, sunglasses, and a hat to protect yourself from the sun.
Hiring a guide and porter is highly recommended for trekking in Upper Mustang. They are well-trained professionals who know the region well and can help you navigate the trails safely. They can also carry your luggage, which can make your trek more comfortable.
Stay hydrated and eat healthily is essential while trekking in the Upper Mustang area. Carry enough water with you and drink regularly. It is also important to eat healthy food to keep your body nourished and energized. The local food in Upper Mustang is delicious, and you should try it, but make sure it is cooked well.
While trekking in Upper Mustang, it is essential to follow safety guidelines to avoid any mishaps. Always walk on the designated trails, stay alert, and be cautious of your surroundings.
I think you are clear about high altitude sickness during Upper Mustang trek. Still you have any more questions and confusion write us. We are happy to make you clear and organize upper mustang trek safely.
24/7: Get trip ideas from our travel specialist as per your desire & duration of holidays.