Hire a guide for Manaslu circuit trek Nepal
It is essential to hiring a guide for Manaslu circuit trek because it is controlled area not allowed to trekking in Manaslu without guide. You need to hire a guide and issue the special permit throw reliable travel agency Nepal. We offer expert guide and porter hiring service for your upcoming around Manaslu circuit trek in the Himalayas. Cost to hire a guide specified as below, you can book online.
Manaslu trekking guide is a trained professional who has in-depth knowledge of the region and its culture. He / she can provide you with valuable information about trail, villages, culture and customs of local people. Navigating the challenging terrain of the Manaslu area can be daunting without the help of an experienced guide. Manaslu trekking guide can ensure a safe and enjoyable trekking experience, making your journey memorable.
Cost to hire Manaslu travel guide
Hire professional Manaslu circuit guide cost: US$ 30 per day
Hiring a porter for around Manaslu trek cost: US$ 25 per day
Let's plan a custom trip now for you to travel culturally rich and naturally beautiful Nepal.
Trips to visit Manaslu Nepal
Contact us to hire a guide
Hiring a guide and porter will not cost you too much, and the fare will be shared easily in between you are traveling together to Manaslu.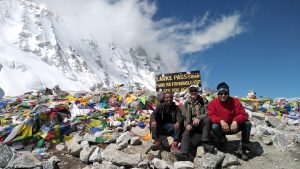 Mainly guide for around Manaslu trek is for safety and permit reasons. We advise you to hire a guide for round Manaslu trek form Kathmandu, Guide meet you at your hotel day before initiate the trek, helps to make your trip easy and memorable forever.
Book Manaslu circuit trek now
Manaslu trekking is one of the best trek trails and is considered a great alternative to the Annapurna circuit trek route. Manaslu trail is one such trekking route in Nepal, which you cannot do without a guide. Our professional guides are insured, well equipped with good knowledge of first aid and able to handle the trip smoothly.
Hiring a guide for the Manaslu circuit trek is essential for a safe and enjoyable experience. Travel with a reliable guide to explore the stunning landscapes and immerse yourself in the culture and traditions of Manaslu Nepal. You can hire a guide for around Manaslu circuit trek and porter as well with us. Advance booking is the key to get destination expert guide. Base Camp Excursion will help you to issues the restricted area permit on demand, email us with your requirements. Our professional guide who lead your trek with smile and grant you lifetime experience.
24/7: Get trip ideas from our travel specialist as per your desire & duration of holidays.