Hiring a guide for Poon hill trek tips
Hiring a guide for poon hill trek is essential, better to have a guide to go for trekking in Nepal Himalayas. If you have professional guide during Ghorepani trek you will get the better experience. Pokhara to Ghorepani Poon hill trek is low altitude easy trekking route suitable for family with kids and seniors too. It is highly advisable to trekking with experience guide for safety concern.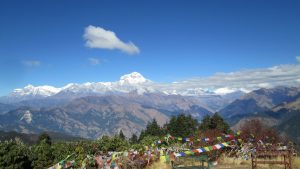 Now you can hire a guide for Poon hill trekking either from Kathmandu or Pokhara with us. Local English speaking guide have good knowledge about the trail. He will brief the trekkers about situation, local culture, tradition, scenery, places to see, things to do with day to day program schedule. Guide porter hiring service for Ghorepani poon hill trek cost given below.
Ghorepani Poon hill trek guide hiring process
First of all check the Cost to hire a guide to do Poon hill trek.
Hiring professional trekking guide in Pokhara cost: US$ 30 per day
Hiring a porter in Pokhara cost: US$ 22 per day
Let's plan a custom trip now for you to travel culturally rich and naturally beautiful Nepal.
Annapurna sanctuary trips
How to hire guide for Poon hill trek?
You can split the cost to hiring a guide in between in your group of friends. Form Pokhara is not expensive, our guide meet you in Pokhara at your hotel, day before start the trek.
We advise you to book guide porter service in advance to get the professional guide and porter for trekking in Pokhara. We manage guide and porter for Ghorepani Poon hill trek as per your requirements. All Government licensed guide have good knowledge of first aid and emergency rescue arrangements etc.
Guide hiring  cost from Pokhara quite less than hiring one from Kathmandu. As the trek of Ghorepani poon hill starts from Nayapul, Pokhara, you don't have to bare the expense of bringing a guide and porter all the way from Kathmandu. Freelancer guide and poon hill trek without guide is not advisable.
Hiring a local guide supports the local economy and creates job opportunities for the local people. It is a great way to give back to the community and learn more about the local culture. hiring a guide for Poon Hill Trek is highly recommended. It will make your journey safer, more enjoyable, and more informative.
Need a guide for this trek write us, conform trek starting date, number of trekkers, require porter and guide at least 30 days before. We do provide you experience guide and porter service in Pokhara.  Follow expert's tips to book experienced local trekking guide for poon hill hike from Pokhara.
24/7: Get trip ideas from our travel specialist as per your desire & duration of holidays.