Kagbeni to Muktinath trek overview
Kagbeni to Muktinath trek distance 12.4 kilometers / 7.7 mile via Khingar and Jharkot village. During this hiking venture you come across soothing natural beauty, vivid cultural luxury, stunning Himalayan views, beautiful landscapes and pleasing climatic ambiance. Muktinath is a holy place for both Buddhists and Hindus, takes 3 to 4 hrs to reach from Kagbeni.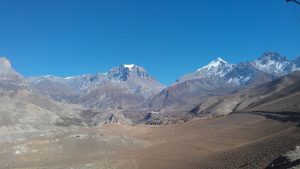 Kagbeni to Muktinath trail is not a part of upper mustang trek Nepal. It is a side trip to famous Muktinarth temple in Ranipauwa village. It is possible to go explore and come back same day from Kagbeni. Alternatively trekkers can go or come back from Muktinath via Jhong village too.
We organize a day side trip to Muktinath for returning guest from Upper Mustang. Trekking via Jhong to go to Muktinath and come back via Jharkot to get better exploration of both side. There are nonstop growing fire, 108 water taps and 2 holy ponds nearby the Muktinath Mandir.
The trek offers a unique blend of landscapes ranging from arid deserts, high-altitude valleys, and snow-capped peaks. As you trek through the Kali Gandaki valley, you will come across several ancient monasteries and chortens that hold significant spiritual value.
Let's plan a custom trip now for you to travel culturally rich and naturally beautiful Nepal.
We suggest all travelers to take a holy bath in 100 water taps and deep into the Kunda (pond). If you are Buddhist or Hindu you must take a bath before entering temple to worship. It is famous holy place for salvation; it carries great significance in Eastern philosophy. There are some monasteries also worth to visit during Muktinath trip.
Kagbeni to Muktinath trek area is a part of Annapurna circuit trek, Lower mustang trek and Jomsom to Muktinath trek of Annapurna trekking region. Pilgrims combine this destination with Damodar kunda trek & Upper Mustang trek also. Diversity of nature, landscapes and cultures provides you marvelous insight on Kagbeni to Muktinath distance.
Kagbeni to Muktinath trek is a short and easy trek that offers a unique cultural and spiritual experience as it takes you through ancient villages, monasteries, and high-altitude landscapes. Kagbeni to Muktinath trek is a must-do for anyone who wants to experience the unique blend of culture, spirituality, and natural beauty that Nepal has to offer. The trek is relatively easy and can be completed by anyone with a reasonable level of fitness.
We are ever open to make any necessary changes to it as per you request. For booking and any information on Kagbeni to Muktinath trek, please do not hesitate to contact us. We will feel extremely delighted to assist you on your matter.
24/7: Get trip ideas from our travel specialist as per your desire & duration of holidays.