Available food & Accommodation during Upper Mustang trek
Upper Mustang is an isolated and partly restricted region of Nepal. Exotic Upper Mustang trek begins with the journey from Kathmandu to Pokhara and from there to Jomsom. Before going to this kingdom it is important to know about available food & accommodation during Upper Mustang trek. Here we are going to make clear regarding availability of accommodation on Upper Mustang trekking route.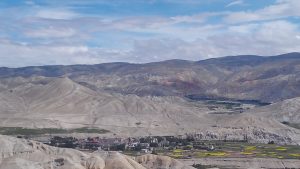 Tea houses or basic lodges provide lodging facilities in each village on walking trail. Most of the lodges and guesthouses in the Upper Mustang area offer accommodation with western toilet and other basic facilities for tourist. Comparatively accommodation in Upper Mustang is quite expensive because of the low density of population, expensive transportation & isolation.
Accommodation on the Upper Mustang trek is basic but comfortable. You can choose to stay in teahouses or guesthouses along the trek. The teahouses and guesthouses offer clean and comfortable rooms with basic facilities like a bed, blanket, and pillow.
Food on the Upper Mustang trek is diverse and delicious. It consists of a mix of Nepali, Tibetan, and Indian cuisine, which is both nutritious and filling. There are many teahouses and guesthouses along the trek, which serve freshly cooked verity of food.
Let's plan a custom trip now for you to travel culturally rich and naturally beautiful Nepal.
According to the local menu we are going to update the list of available food during Upper Mustang trek also. Local as well as international dishes breakfast, lunch & dinner are served in the lodges and guest houses. Check the food item according to the local tea house menu below for reference.
Hot drinks available on Upper Mustang trek route Nepal
Hot water
Black tea
Milk tea
Lemon tea
Lemon Ginger honey
Ginger tea
Mint tea
Jasmine tea
Masala tea
Black coffee
Milk coffee
Hot chocolate
Hot Lemon
Cold drinks available on Upper Mustang trek Nepal
Mineral water
Can juice
Coke, Fanta, Sprite, Dew
Can bear (small and large)
Seaback thorn juice
Breakfast items available on Upper Mustang trek Nepal
Oat Meals
Corn flakes with milk
Muesli with milk
Muesli with apple
Granola with milk
Oat porridge
Porridge with apple or honey
Porridge with cinnamon with resins
Toasted bread
Toast with honey or jam
French toast
Cheese toast
Toast with egg and cheese
Plain toast
Eggs items
Fried eggs
Plain omelets
Scrambled eggs
Boiled eggs
Veg omelets
Cheese omelets
Bread and pan cakes
Tibetan bread
Pan cake with jam or honey
Cinnamon pan cake
Apple pan cake
Chocolate pan cake
Lunch and dinner items available on Upper Mustang trek Nepal
Pizza
Tomato Cheese pizza
Chicken pizza
Mushroom pizza
Mixed pizza
Tuna pizza
Noodles
Veg fried noodles
Egg fried noodles
Fried noodles with cheese
Mixed fried Noodles
Pasta
Veg fried pasta
Cheese fried pasta
Pasta with cheese and tomato sauce
Sandwich serves with chips
Grilled cheese tomato Sandwich
Grilled tomato egg Sandwich
Grilled tuna and tomato Sandwich
Grilled club Sandwich
Momo (dumplings)
Veg momo fried or steamed
Potato momo
Cheese momo
Chicken momo
Buff momo
Spaghetti
Spaghetti with cheese tomato sauce
Spaghetti with tomato sauce
Spaghetti veg tomato sauce
Spaghetti with tuna, cheese and tomato sauce
Vegetable and salad
Fried vegetable (fresh)
Veg salad
Boiled vegetable
Rice meals
Veg fried rice
Egg fried rice
Cheese fried rice
Dal Bhat (Nepali meal set veg)
Dal Bhat non veg
Rice with chicken curry
Rice with veg curry
Potatoes items
Boiled potatoes
Fried potatoes with fresh veg
Fried potatoes with cheese
Fried potato with cheese and egg
Roast potatoes
Mash potato
Hash brown potato
Finger chips with egg
Chips
Snacks available in Upper Mustang trek area
Papad
Puff corn
Prawn crackers
Dessert items available on Upper Mustang trek tea houses Nepal
Rice pudding
Apple pie
Apple fritters
Chocolate pudding
Custard pudding
Rice pudding
Apple pie with custard
Soups items available on Upper Mustang trek Nepal
Fresh Veg soup
Tomato soup
Chicken soup
Garlic soup
Potato soup
Mushroom soup
Noodle soup
Upper Mustang is very scenic, this journey graded as moderate by trekkers. All you need is a fit body and a strong mind to explore.  The scenery along the Kali Gandaki valley is very beautiful where you can see the Dhaulagiri and Annapurna peaks. The Weather and height elevation of upper mustang trek never disturb your voyage. It is possible to go during monsoon months as it is in the rain shadow region of Himalayas.
Food and accommodation are vital aspects of the Upper Mustang trek. The food is diverse and delicious, consisting of a mix of Nepali, Tibetan, and western cuisine. The teahouses and guesthouses on the trek offer clean and comfortable rooms with basic facilities. The trek to Upper Mustang is an experience of a lifetime, and the food and accommodation along the way add to the overall experience. So, if you are planning to go for the Upper Mustang trek, be sure to keep these things in mind.
It is advisable to carry extra food like nuts, chocolates, cookies and nutritional food stuffs during Upper Mustang trek. Tea house accommodation is available in each village, for organized trips. It will be the responsibility of the tour guide to arrange the best accommodation during the trek.
When you book full board upper mustang package; we do provide you stress free service including food and accommodation during upper mustang trek. If you interested to visit upper Mustang area do not hesitate to contact with us.
24/7: Get trip ideas from our travel specialist as per your desire & duration of holidays.