Machha Khola to Jagat trek details
Machha Khola to Jagat trek distance is an astoundingly exotic part and off-the-beaten-path of Manaslu circuit that has so far remained isolated and unspoiled. Machha Khola to Jagat trek distance is 22.2 kilometers / 13.7 miles.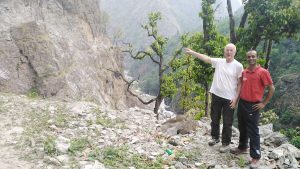 It takes 5 to 6 hrs to reach Jagat from Machha Khola passing throughout the Gurung villages Khorlabesi, Tatopani, Dobhan, Yuru Khola along Budigandaki valley. This trek is perfect for those who want to experience the natural beauty of Nepal and also want to get a glimpse of the local culture and lifestyle.
Jagat village situated at an elevation of 1410 meters above sea level. The adventure walk on the rugged terrains, views of striking mountains and cultural exploration during the trek makes it a perfect endeavor to those who aspire to savor a bit different taste of adventure. The dramatic traditional monasteries on the way portray the Buddhist influence of the region.
Walking trail is well marked and is mostly easy to navigate, although there are some steep sections that require a bit of physical exertion. Along the way, you will encounter several suspension bridges that cross over the Budhi Gandaki River.
Let's plan a custom trip now for you to travel culturally rich and naturally beautiful Nepal.
Trips to visit Manaslu Nepal
Machha Khola to Jagat trail traverses through pristine Himalayan foothills, remote ethnic settlements, lush forests that are seasonally treasured with blooming rhododendron flower, verdant meadows, gorges, waterfalls, and culturally luxuriant Gurung villages. During the month of April and May, the region is ornamented with the impressive display of varieties of flowers. If you are a hardcore trekking fanatic and love to enjoy calm hiking stuffs, we bet you, this one will almost certainly magnetize you.
You may also have pleasing opportunity to explore the rare and endangered wildlife in the region such as musk deer, snow leopard, Himalayan fox, wild dog, and others. We are reputed agency for Manaslu circuit trek in Nepal Himalayas. If you interested to explore Machha Khola to Jagat distance a part of around Manaslu trek .
Machha Khola to Jagat trek is a beautiful journey through some of the most picturesque landscapes of Nepal. It is perfect for those who want to experience the natural beauty of the country and also want to get a glimpse of the local culture and lifestyle. So, if you are planning a trip to Nepal, make sure to include this trek in your itinerary.
Please feel easy to contact us for the detailed insight into the trip and booking of this tremendously enticing Manaslu trek in Nepal. we are happy to assist during this trip with the support of professional guide, support staff and quality service to make you happier.
Watch manaslu circuit trek video
24/7: Get trip ideas from our travel specialist as per your desire & duration of holidays.