Marpha to Kalopani trek information
Experience the thrill of trekking Marpha to Kalopani distance the part of Annapurna circuit trek is one of the popular spots among the trekkers. Marpha to Kalopani trek distance is 19.7 kilometers / 12.2 miles. Fascinating walking trail pass through Gandaki valley observing beautiful sight of high mountain, trees, villages and pasture of green grass.
It takes 6 to 7 hours to reach Kalopani from Marpha village. Kalopani or Lete situated at an elevation of 2530 meters above sea level. There are many small villages like Tukuche, Kobang, Latrjung, Kokhethanti, Dhampu that will come in your notice for the unique life style of the people.
Hiking the Annapurna circuit will help you to experience the amazing beauty of nature. You will get to see a rich variety of flora and fauna while hiking along the mountains. As you move downward gradually the forest becomes dark and is surrounded by many trees like a fern, pine, juniper, Rhododendron, bamboo etc.
Let's plan a custom trip now for you to travel culturally rich and naturally beautiful Nepal.
Hiking the annapurna circuit Nepal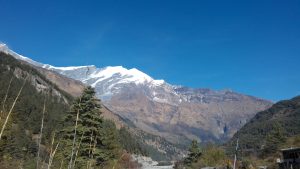 You will experience wide variety of vegetation while trekking through the circuit mainly in lower section Marpha to Kalopani distance. The most favorable season to consider trekking in Annapurna circuit is autumn and spring. If you are strong enough and maintain your physical fitness then you can go in any of the seasons of your choice except winter.
During Marpha to Kalopani trek you will pass some suspension bridges over Kali Gandaki River to reach to another side of the river. Through the Marpha to Kalopani path you will enter along the pine forest and sometimes you need go to the side of the hill and sometimes down the bed of the river. In between Marpha to Kalopani trek you will get the opportunity to refresh yourself as there are some lodges in the place.
We organize Annapurna circuit and mustang exploration trip as per the guest requirements. If you interested to discover amazing nature and culture of Marpha to Kalopani trek distance write us. We are happy to organize according to your preferences.
Annapurna circuit trekking video
24/7: Get trip ideas from our travel specialist as per your desire & duration of holidays.