Lama Hotel to Mundu trek information
Trekkers cross the Lama Hotel to Mundu distance on third day of Langtang valley trek exploring Langtang village. Lama Hotel to Mundu trip distance is 14.7 kilometers / 9.1 miles. Trail ascends gradually and takes 6 to 7 hours to reach Mundu by foot. The elevation of Mundu village is 3543 meters above sea level.
Trek pass throw Gumnachowk 2769m, Thomna 2790m, Ghodatabela 2972m, Thyangsyapu 3140m, Chyamki 3230m and Langtang village 3430 then finally reach Mundu.
The panoramic vista of Himalayan peaks on the way from Lama Hotel to Mundu is a real treat to watch which basically includes Langtang Lirung, Ganesh Himal, Naya Kanga and Dorje Lakpa.
The region shelters tremendous rare wildlife, so you can have an opportunity to explore them. The lively cultural exposition of local Sherpa and Tamang people makes your journey even more exclusive.
Let's plan a custom trip now for you to travel culturally rich and naturally beautiful Nepal.
Visit langtang village now
The marvelous Langtang valley Nepal appearing on the way is simply awesome. Your venture will be enchanted to the greater extent if accompanied by proficient and friendly guides during Lama Hotel to Mundu.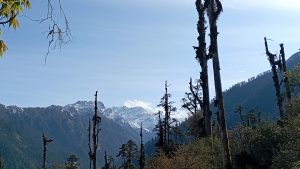 If you interested to wandering along the Langtang trekking trail from Lama Hotel to Mundu part book Langtang valley trek. Langtang valley Nepal surrounded by many high peaks of great appeal with mesmerizing exquisiteness.
We are open to any queries and changes to the package to scale the high altitude of Langtang village Nepal from your side. You may mail us in that case. We will be pleasured to respond to your matters.
24/7: Get trip ideas from our travel specialist as per your desire & duration of holidays.